"The moment that you feel, just possibly, you are walking down the street naked, exposing too much of your heart and your mind, and what exists on the inside, showing too much of yourself … That is the moment you might be starting to get it right." ~ Neil Gaiman [via @jessicasreve]
What is scarier for a first time yoga teacher: facing a room filled mat-to-mat with yogis ready to practice or a room where no yogis have showed up to class?
The truth is neither, I keep telling myself.
Letting my mind and ego ponder scariness in response to either of those potential situations might be fair. It's also losing sight of why I will be there at all.
I am not leaping onto this path with visions of teacherly perfection. That's ego. Rather, I'm trusting I have something worth offering. That's wholeness.
I am sharing here and on Instagram, Facebook and Twitter that I will be teaching my first yoga class on Sunday — despite it being my first — because I am letting go of that ego, the fear.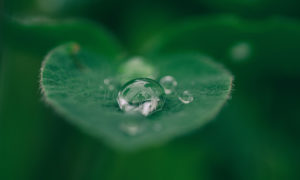 Sure, I had a moment of doubt about beating the drum, with the ego's voice in my mind saying, "Are you crazy? Why add pressure? Hide it until you're … more."
By making my commitment public, however, I am holding myself accountable to the moment and to my own practice. I am giving myself the chance to fail miserably in egoic terms and be wildly vulnerable and present in yogic terms.
This in itself is practice for me this week. I'm not allowing concepts of "pressure" and "success" to take over my focus. I trust those who will join me for class will be there to receive and support open-heartedly. I will give what I have in the same way.
So, I am leaping into this first of firsts. I am rejecting aspects of the old stories of myself, like how I am the guy who usually wants to overthink it all. The guy who wants control so not to embarrass himself. The guy who thinks he needs excessive amounts of advance notice and prep time before performing in the spotlight.
Of course, to take the seat of the yoga teacher is not to perform. It's not to take center stage in a spotlight. It is to welcome you to take a seat within your own light. In that light, it's not about me at all.
Putting aside the ideas of performance and of good/bad, right/wrong, success/failure, all any of us needs to do is show up to class with intention to breathe, look inward, and accept whatever we find there.
And … should no one show up on Sunday, I will teach anyway. Out loud. As if the room is full.
---
Rooted in Seva is a weekly class from 4:30 – 6:00 p.m. on Sundays, at Root Center for Yoga and Sacred Studies in Colorado Springs. It is a donation-based class. Seva in Sanskrit, the language of yoga, means selfless service. See Root's full schedule of offerings at rootdownandgrow.com.
---