Christine Kathryn recently turned the microphone toward me for her Creating Space podcast. She brought the questions and I gave up the answers.
I am used to being the one behind the questions and the camera. It's a rare experience for me to see how other interviewers connect the dots, and this was my first time being recorded for podcast. Christine is a fantastic interviewer and facilitator of the experience.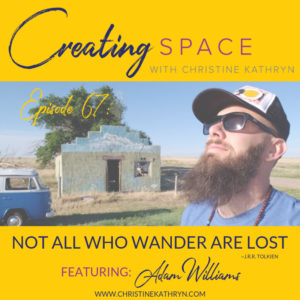 As Christine says as part of her intro to our interview (and on her blog):
"Adam and I discuss a wide variety of instances demonstrating a huge shift in the way he's showing up in the world.
"We talk about how he is breaking free from the 'shoulds' he and most of us have been socialized to follow and the serendipitous encounter he had a little over a year ago that sparked this profound change in the trajectory of his life.
"We explore his journey of becoming a stay-at-home Dad of sorts and the rewriting of what it means to be a man in this climate."
The Vulnerability of Interviews
I admire those who sit across from me in Humanitou conversations and field my well-intentioned efforts for meaningful conversations. It happens in the moment. They get no prep beyond knowing themselves and tapping into that place with a willingness to share vulnerably.
I often have wondered how I would do if I was in the other seat, being asked questions that I ask of others. This interview with Christine was my chance to find out. She, too, skips the chit-chat about weather and dives right into the heart of life with each topic and guest.
So, if you're in the car for a while, out for a hike, or cooking dinner and are up for a listen, here is our interview on Creating Space, Not All Who Wander Are Lost with Adam Williams:
And here are a few of my favorite Creating Space podcast episodes for extra measure:
EP26: Creative Expression
EP45: ReWilding Our Children with Alexandra Kogen
EP60: Japa Meditation
Want more? You can subscribe for the Creating Space podcast and listen to any of the 67 episodes (and counting) on the blog and iTunes. Christine also offers free downloads of guided meditations by category and mentoring consultations.