My eight-year-old son, J, beat me at a game of G-L-A-C-I-E-R the other day (it's H-O-R-S-E but we like to choose a different word each time we play). 
It was his first victory over me in, I think, anything. And of all things, basketball?  
For decades, that has been my sport, the primary sport of my life and story.
I have won championships and scholarships, tears and bragging rights, blood and stitches, friendships and rivalries, skirmishes and stories. All with a basketball. I have lost plenty too, and know the learnings came at least as much from those moments as any of the others.
Through basketball, I shined when otherwise I'd been so comfortable in the shadows and along the edges, because it was on the court my quietness of voice didn't matter, my actions spoke volumes, and it was my heart and passion and fire within that spoke, my determination and will, my sweat equity and eventual confidence …
and even now, when I have left the scoreboards and crowds and newspaper articles behind, from the hardwoods of the Army and college and high school, and on backward down the line of my youthful history, I still have my shot …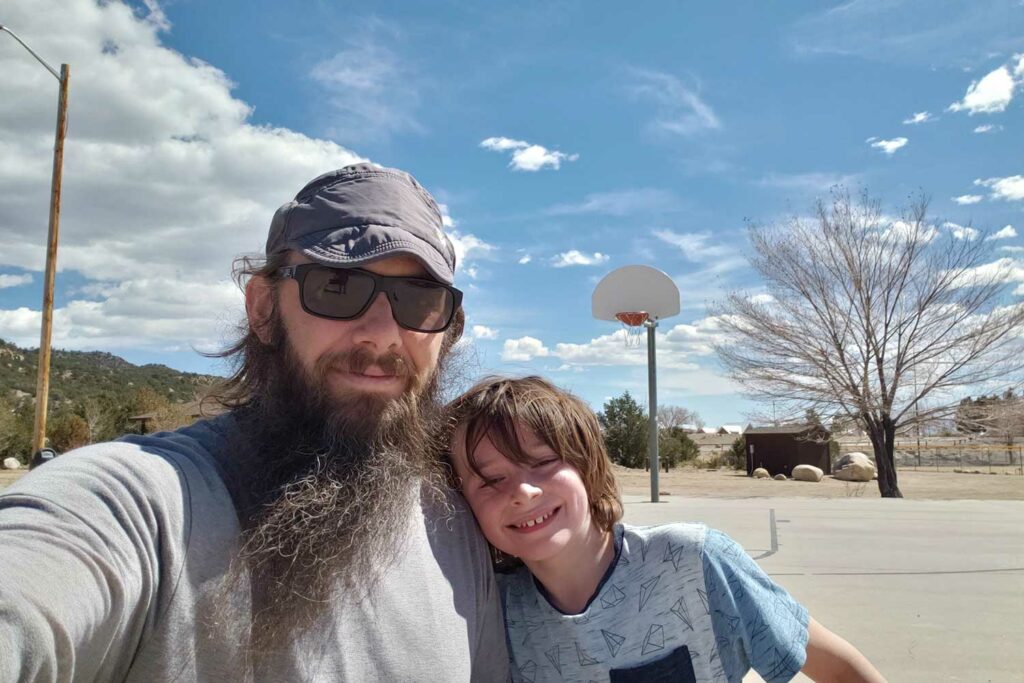 and my will to take on any shooting challenger. Should one day a GOAT, like, say, Michael Jordan, ask for such a game, I'd step into the arena without fear, because it's something I still know how to do, no matter who is on the other side of the G-L-A-C-I-E-R …
after all these years, because of when I cranked up hundreds upon thousands of practice shots each day, systematically, a hundred from this spot, and a hundred from that one and that one and that one and … keeping the numbers of makes and misses and totals in my head as I went, when it was all I could do as a red-shirt college freshman sidelined by mono, and whose spleen might explode if I otherwise pushed too hard or fired too hot …
or if I stepped onto the court and into the flow of the men who too had won championships and scrappin' scars in the lands of their own rites of passage and up-growing, though whose heights did not peak at 6'2"-ish like my own, rather became redwoods to my red cedar, ascending to peaks of 6'6" and 6'8" and more, and on that court catch the off-chance of a scything slice of one of their elbows connecting with my body in the just-wrong spot.
I still have that willful fire that responded with action when one of those redwoods talked smack with a laugh, saying to me, "you couldn't dunk a donut" … and then I flushed it on top of him, because, yeah, just tell me what I can't do …
and on another occasion, when my body had finally healed enough, during a team scrimmage when I refused to let the visiting player from the U of I who had eight inches and nearly a hundred pounds on me take an unabated line to the rim? … Yeah, right. Bust my ribs with that elbow if you must but I'll be damned if you get the dunk, too (except, well, he did get both … but … ) … 
but it was that fire and that fight, the same one that in the years prior, in a high school game, the first time I touched the rock on the block that night, I squared to the 6'9" opponent, who in the newspaper man's photograph is seen bending his knees to lower nearer to my height to guard me, and still I dared him to stop me (… he did) … 
but that fire, dammit, that fire and that fight that started in our driveway even years before, when I was the age of my older son, T, and not much older than his younger brother, the aforementioned, J, star of this G-L-A-C-I-E-R I'm winding back around to … when I would spend hours upon hours in solitude in that driveway, with the repetitive, repetitive, repetitive …
echoing of the bouncing of the basketball against the cement and the brick and the rim and the backboard, the ceaseless noise that once it started did not stop in the ears of our neighbors for years …
and I'm sorry/not sorry about that, and can only hope that when during a certain window of time in the early 90s they saw my name and my face in the newspaper over and over and over …
they hopefully came to understand what all that passion within me was mounting to when it escaped from me, what all those hours and years had meant, that none of it was for nothing … 
and the scars and doctor/ER visits, the playing at 6 a.m. against grown men in a church gym, and again against my peers in practice at the school at 3 p.m., and then against other towns' best, and I didn't care where we got down to it then, on Tuesday and Friday nights at 7 p.m., I'm there … and then some more, whenever, wherever.
To this day, I do not leave a court until I have made at least three shots in a row, usually three three-pointers but sometimes I'll drift into the midrange, not that it matters, because all these years I've never forgotten how to make it happen.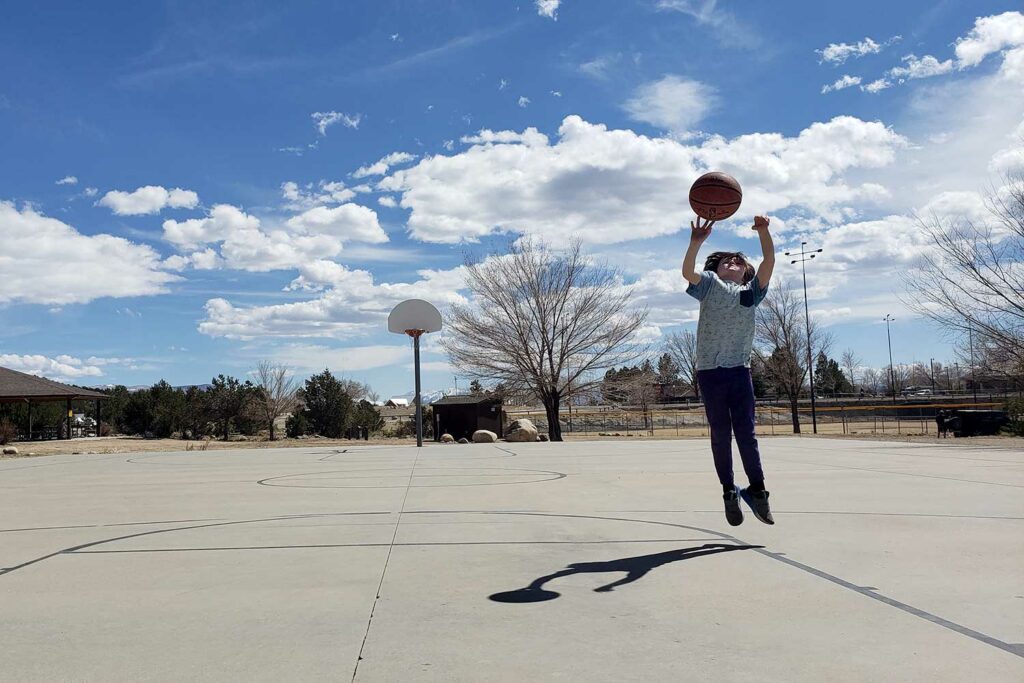 Case in point, to have a little fun last year when I would take my sons to an empty school's playground to enjoy sunshine and air and the mountains that crowded around to view our games, and to escape from the isolation of the pandemic, and to show them what's possible, I was shooting — and making — shots that were 20 feet behind the solid-white backboard. 
From behind! Arcing ridiculously high and with the moon-rocket precision that had to be to get that sweet swish through the net I could hardly see on the other side of the backboard … "Do not tell me what I can't do on the court, big man! Here's your donut!" … My sons have learned that too. Do. Not. Tell Me. I can't. … Just Watch. And then know that you can do it too.
When I was still shorter than six foot tall as a teenager, I willed myself, as my dad would come to say, to eclipse the mark by my junior year, becoming the tallest in my family, and then tack on another inch for my senior year, not that it wholly mattered.
I always was tasked with defending and offending players bigger than me, taller and/or heavier, and often more of them at the same time, double-teaming me and, on at least one occasion, a team that devised its strategy to triple-team whenever I got the ball …
and I've gotta say I was frustrated by that, but the stat sheets still made them think it wasn't working and when they backed off to only double-teams after half time, I unleashed that frustration … Donuts!
and I would not ever be satisfied with so-called dunks that squeak over the top of the iron, and are the dubious accomplishments of "White Men (who) Can't Jump," a Woody Harrelson/Wesley Snipes basketball playground hustling movie of that era, but thunder like Thor's hammer with the cocked one-handed swing of my right arm off a mere drop step from the block …
While the steam in my hammer has so fizzled by comparison these years later on, and I must admit my disbelief that any steam has been left at all for quite some years, when my boys begged me yet again last year to dunk for them, I finally gave in, and then I mustered one of those squeaks, slipping it barely over the rim.
But it was enough to energize me to reach for just a bit more, and to give them what they wanted and maybe what I needed. And by dunk three I was feeling fine, and know it may have been my last ever.
And though I could go on here, I think no more examples of my fire and will are needed to say that it is all this and then some that my as-of-yet small but mighty, and plenty fireful-on-his-own son, J, has overcome. 
I relay these stories of me not to play Al Bundy, with his four touchdowns in one high school football game, but to shine even brighter on what my boy stared down with his own flames and knew — knew — he could do. And to note the passage of time, mine and his.
I relay these stories because he has yet to write his own; mine, in a sense, at least in this case, serve as preamble to an accomplishment that begins the telling of his own story.
And that in my fire is his fire, and now, both my sons having crossed this threshold, T having beat me for the first time at a game of H-O-R-S-E some years ago, the fire spreads and grows and moves in ways we do not yet know. And it's exciting.
When the tide was in J's favor in our game of G-L-A-C-I-E-R, and it was easy to be confident, he was. And when I reeled him in from deep in the hole of the game, my back having been against the wall for some time already, I reminded him this is when attitude really matters: Can you keep believing even now and overcome the challenge, and the fear of not winning? Or will you let your dreams slip away?
I brought him to his proverbial knees and to a tie game, talking trash along the way, with smiles, because it's a way I playfully challenge my sons and their hearts, their attitudes, their thickness of skin and toughness of mind in a world that does not simply give us our dreams. And it's one more way that I show them love, in our playful give-and-takes.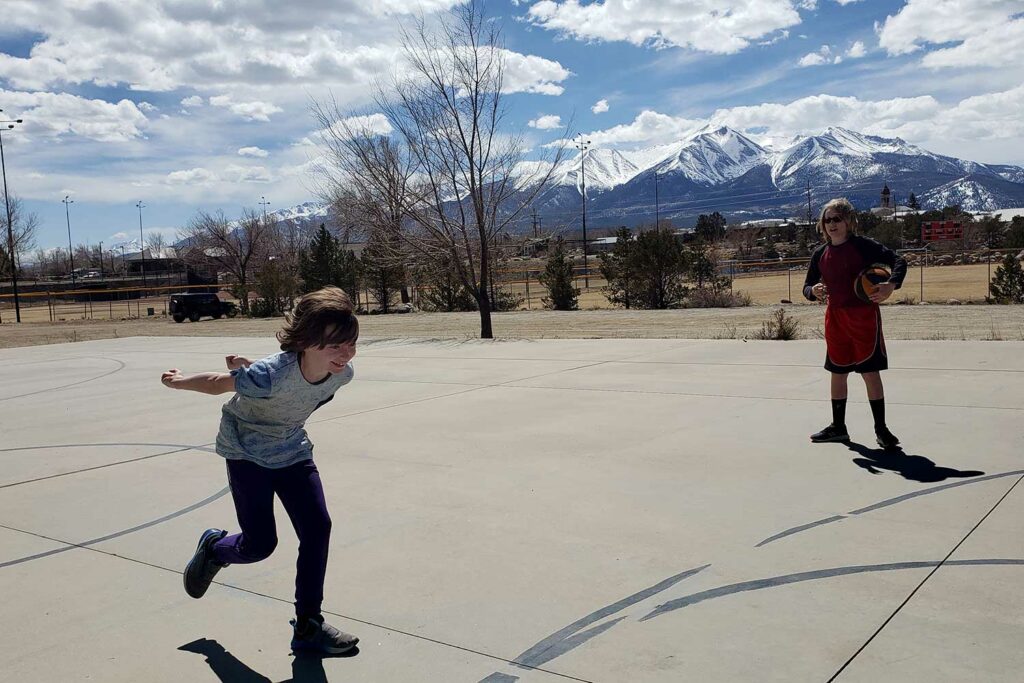 And because, know this: I do not let my sons win. That's not to say I am ruthless in pursuit of my own winning. But I want them to feel the feels of a deserved victory. And this, this very moment, is exactly why. 
When the gray clouds had blown in and dimmed J's sunshine, the oh-so-close win on the brink of slipping away, he stepped up not once but twice, hitting clutch shots to save himself and keep the game going. He did that. 
In the face of me and all my playful taunts, and in the face of all my years of experience and winning, and all my thousands upon thousands of hours and shots practiced, and opponents sent packing … 
When the moment came for him to strike, to take charge of the game and put me on my heels, he did. He did the work within and without …
and he won. Honestly, rightfully, fully. 
Watching J run down the court in glee, arms flying behind him, called to my mind that iconic scene of Coach Jim Valvano racing around the basketball court that had instantly burst into the chaos of stunned and joyful spectators when I was only a boy. 
Valvano was looking for someone to hug in disbelief and celebration, one of his players or anyone, someone. His North Carolina State team had just pulled off one of the all-time Cinderella miracles with a buzzer-beater against the famed Phi Slamma Jamma crew of the University of Houston to win the 1983 NCAA men's basketball championship by two points.
My son J's joy in overcoming me. His pride and confidence and all the feel-goods. His beautiful endless smile. He had come almost close enough in games past, and it had made him hungry to get to the end of the rainbow. He wanted it so bad.
And he got there. He earned it.
So it's my young son's first win over me on the basketball court, and no doubt not his last. I couldn't be happier for him. I know all that he overcame in my game, in my story, even if he doesn't.
We knelt near midcourt and we took a selfie together to commemorate the moment. It's the only first time he'll ever get to claim the crown from his papa's head for a game of basketball. The only first time.
And I hope he never forgets this moment, and all that he's capable of.