When I recently talked with artist and illustrator Rukmini Poddar for the Humanitou Podcast, one of the many things we talked about was the creative value in producing quantity as a means of getting to quality.
I've struggled with this idea in years past, at least in certain areas of art making. The ones I have felt less confident in. I feel more self-assured as a writer and as a photographer. Someone can disagree and I'll shrug it off much more readily than in other areas as being merely a subjective difference of opinion. 
But with painting and drawing, I've been afraid. I've been tight. I've let my impostor syndrome and lofty perceptions about the innate genius of artists inhibit me. I have been much more intensely challenged in these areas.
I have been less willing to fail prolifically as a matter of creative processes outside writing and photography, to accept needing to walk that road of quantity as the way to quality, and to establish my confidence and creative voice.
But … I think I might have turned the page on that in recent months. My wife, Becca, encouraged me to create digitally using the Procreate app on iPad. By creating digitally, I am working through my hang-ups.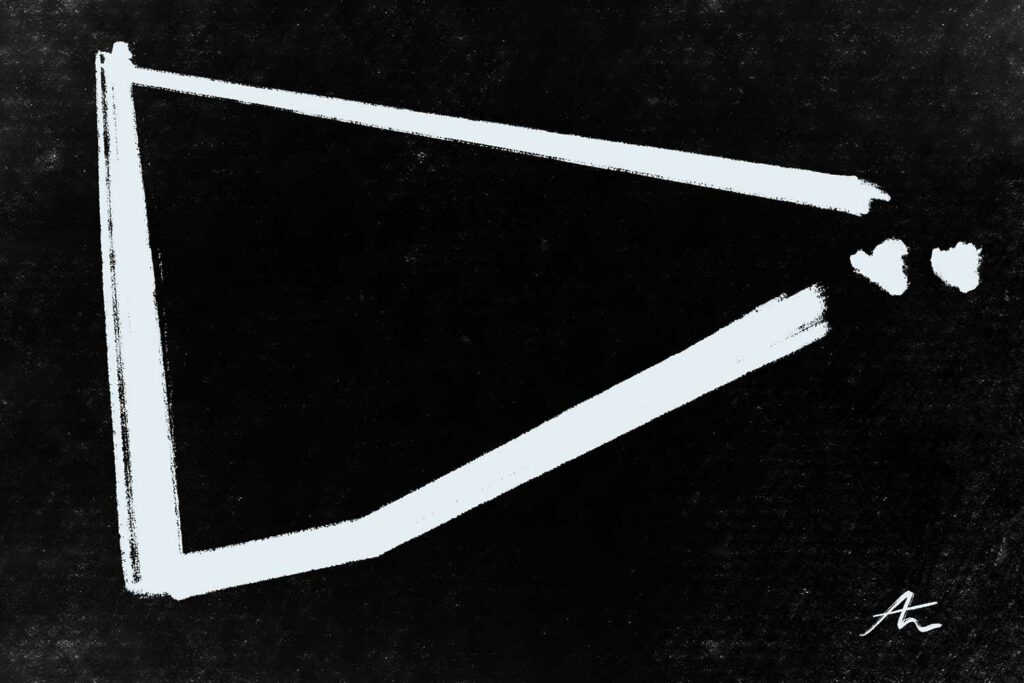 No piles of canvases or sketchbooks I think I've done wrong. If I don't like it, I can delete it. It doesn't hover, haunting me.
No fretting over the money I spend on materials that, with bad art, I feel like I'm wasting. I invested in the technology up front, but do not feel that sense of nickel-and-dime anxiety with every new "canvas" (which is what Procreate calls the blank, white digital page each new creation begins with). I can create without spending another penny until that technology gives out.
I create more prolifically, and with less sense of failure, than ever. 
And through this consistent practice, I'm building confidence to go back to traditional materials. I'm envisioning working again with canvases and paper, paints and charcoals soon, and taking what I've developed through hundreds of digital works in the past few months back to the tangible. 
I'm envisioning moving into larger formats and painting murals. And this summer, I plan to paint my 1975 VW bus, Boio, without letting the fear that has paralyzed me in past summers, ones I watched come and go without my having taken the leap.
Having talked recently with Rukmini, I am thinking again about a helpful story (below) from David Bayles and Ted Orland, which they shared in their book, Art & Fear. And the oft-shared sound bite by Ira Glass, on the beginner gap between taste as early creators and the quality of work we badly want to accomplish. (Actually, I included Ira's comments in text form in a previous blog post: "Figuring Out Our Good Creative Work.")
You might already know either or both of these. I go back to them and back to them and … They are fantastic reminders. 
From Art & Fear:
The ceramics teacher announced that he was dividing the class into two groups. All those on the left side of the studio would be graded solely on the quantity of work they produced, all those on the right solely on its quality. 

His procedure was simple: on the final day of class he would weigh the work of the "quantity" group: fifty pound of pots rated an "A," forty pounds a "B" and so on. Those being graded on quality, however, needed to produce only one pot – albeit a perfect one – to get an A. 

At grading time, a curious fact emerged: the works of highest quality were all produced by the group being graded for quantity. It seems that while the quantity group was busily churning out piles of work – and learning from their mistakes – the "quality" group had sat theorizing about perfection, and in the end had little more to show for their efforts than grandiose theories and a pile of dead clay.
---
From Ira Glass, as shared by filmmaker Daniel Sax:
THE GAP by Ira Glass from Daniel Sax on Vimeo.
---