Since starting Humanitou, I've been collecting suggestions of who I should talk with in Manitou Springs, who I should profile for the blog. One name came up in at least three independent conversations within the first week or two: Rockey.
In two of those conversations, C.H. Rockey was described as "a town treasure." I've mentioned that twice in conversations with Rockey, at his downtown Manitou Springs print shop, recounting my purpose for being there and my intent to publish the stories and insights the 85-year-old artist shares with me.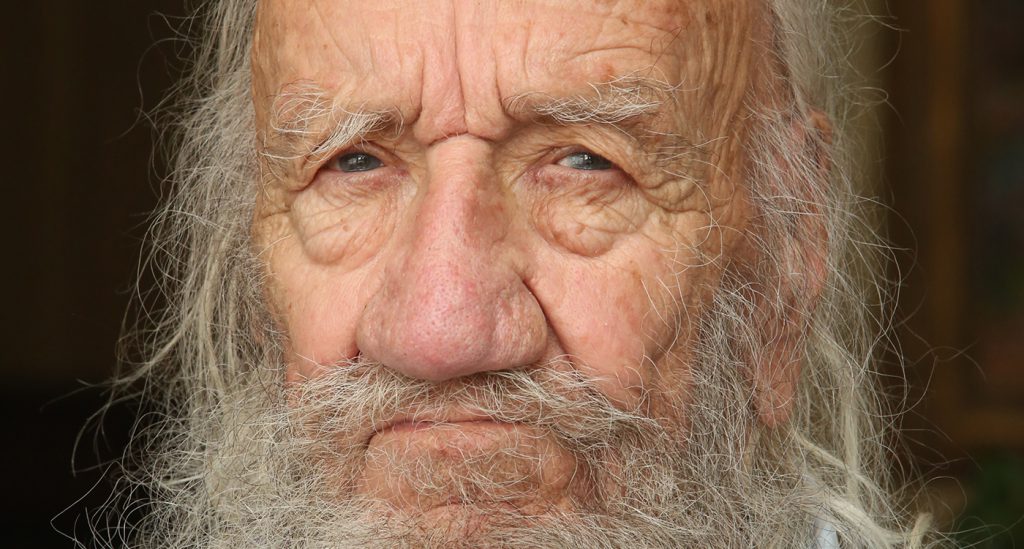 /In our first conversation, he said my intent to share his "message" is why we're talking. "Otherwise, I wouldn't have time to talk with you. I have too much to do." His artwork, like his age, must continue. He's acutely aware of it, fending off mortality as best he can with the work he's intent on completing./
On first mention of being thought a town treasure, Rockey immediately turned and bowed his head, a broad smile spanning his face, overcome with hearing of others' generosity. On second mention, he winced, ducking the self-importance he heard in his mind at even considering such a moniker.

Rockey's memory fails him at times, but our conversations are enlightening and mostly on-point. During one session with Rockey, we naturally entered a word-association flow.
I gave him a word, asked him what thoughts it stirred for him, then leaned back and listened. Along the way, he'd spark the next word in my mind and we'd continue.
And here we are with a series I'm calling, "Words with Rockey." First up? Manitou.
Manitou. What does that word mean to you?
Rockey: The ideal place for me to live. (long pause)
When I got divorced, I was living in Colorado Springs. I didn't realize we were even to that place of talking about getting divorced, and she says, "Well, we're going to court tomorrow."
I say, "Court?"
And the judge says, "Yeah, she gets both houses." It was all out of the blue, it was like I was dreaming, a bad dream. A nightmare. So, I got kicked out my place and didn't have a place to live. I've got $15 in my pocket, what am I supposed to do here?
And our babysitter said, "I'll drive you somewhere." She says, "I live in Manitou Springs, and we can probably find a place for you up there."
So, we drove over — I think I'd been in Manitou before but hadn't paid any attention. But this time we drove over the hill and, here down below us, here is this little village, a kind of Tolkienesque kind of place, cottages and houses all over the place, very picturesque.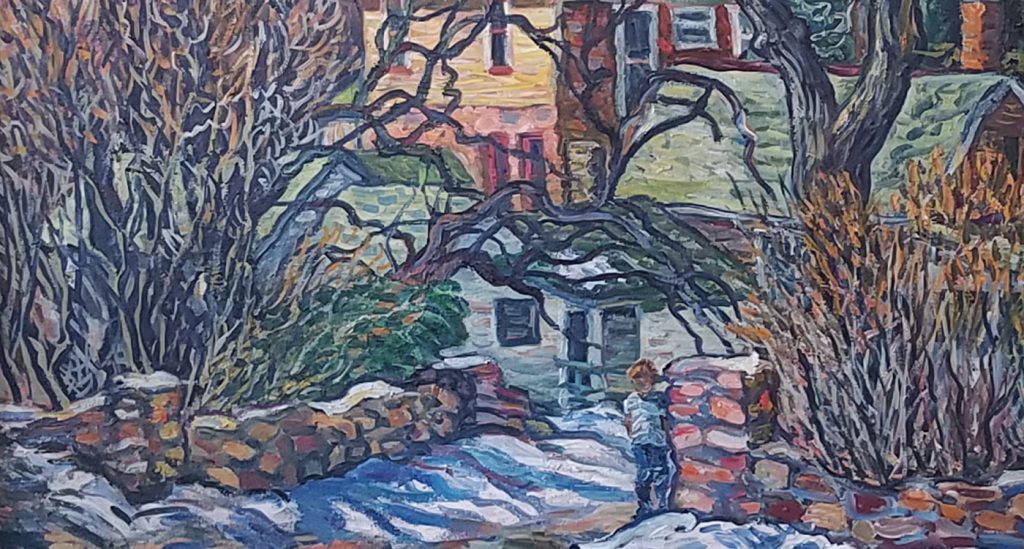 And I thought, "Boy, this is neat. This is my home. From here on, I'm going to live here." It was like pretend, but for real.
I've painted Manitou almost a thousand times now, 900-and-some times. On site. I don't paint from photographs or looking out the window.
I'd take my easel, my palette and my puppy dog and something to eat, and go and sit on-site. I could find a place to paint within 10 minutes. I could still, having painted Manitou almost a thousand times now, 900-and-some times, could still go out and find a place to paint I've never painted before within 10 minutes. I mean, Manitou is endless for visual stimulation.
Behind you (pointing to paintings hung on the wall behind me) is four images of Manitou and, uh– The library, that's one you'd think, 'I could paint that a thousand times,' but I only painted it once, that was it. And that one too, you don't see much of the town, but the texture and– it's more of an impressionistic style. But you know just some rocks in it, a hill and maybe a house in the background, but to me that excited me.
Manitou is superb. A delight. A fantasy come true.