The childhood rite of passage that is a lemonade stand in summer is one I never passed as a child. Recently, at 41, I was part of my first stand. It was my boys'.
It had been an idea that kept rearing its head since last summer, one I wouldn't have minded never rising again. As a parent, even something so simple and worthy as my sons, Taos, 6, and Jasper, 5, setting up shop on our sidewalk comes with mixed emotions.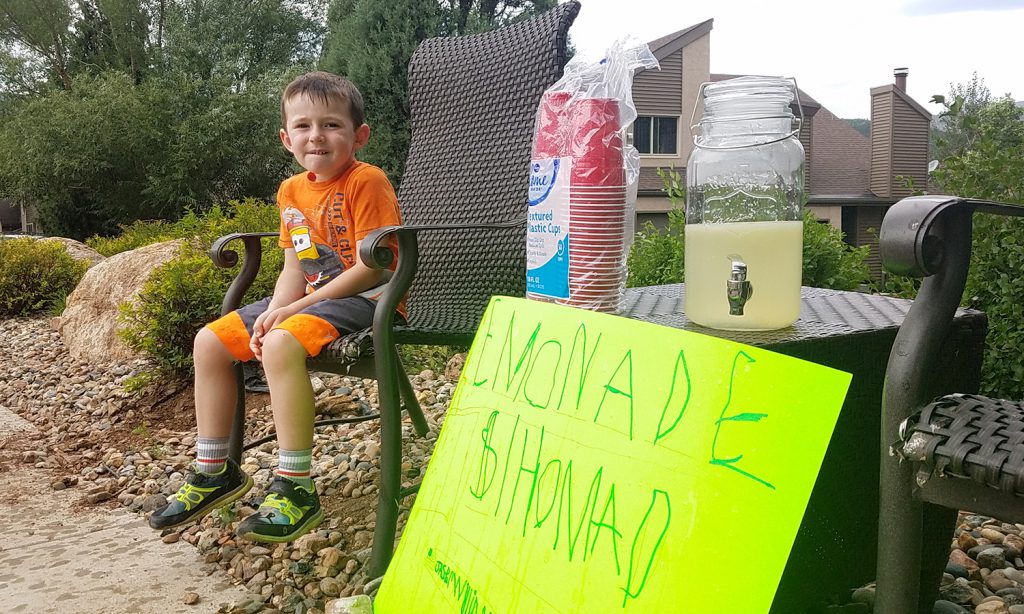 Maybe those emotions — mainly fear of rejection, failure and heartache — were why I never took my stand to the street as a kid. My wife, Becca, was more willing to cross her fingers and post hope on the curb and see what comes for our boys' efforts.
We wanted them to learn, to flow with their creativity, to have fun, to explore their entrepreneurial courage. We wanted them to make even one sale, to have anything positive happen that could soothe or avoid disappointment. As adults, we can see value even in that experience of disappointment. But would they?
Sweet Spirit of Childhood Entrepreneurship
I'd bought poster board to make a sign, lemons to squeeze dry, and a gallon jar with a pour tap. Becca helped our 5-year-old, the one we often call Chef Jasper, make fresh lemonade. She helped our kindergartner create a sign lettered by his own hand: "LEMONADE / $1HOMAD."
Jasper added a logo beneath his phonetically spelled "home-made." It resembled an American flag followed by his first and last names in all capital letters, a lower-case "e" tucked in where it first was forgotten.
Jasper, in particular, was driven. Cottony, gray clouds had started to rumble as the boys drank pre-game cups of their own product at the kitchen table, each having paid retail price to their own kitty. Becca and I tried to persuade Jasper to let us also buy cups. He denied us.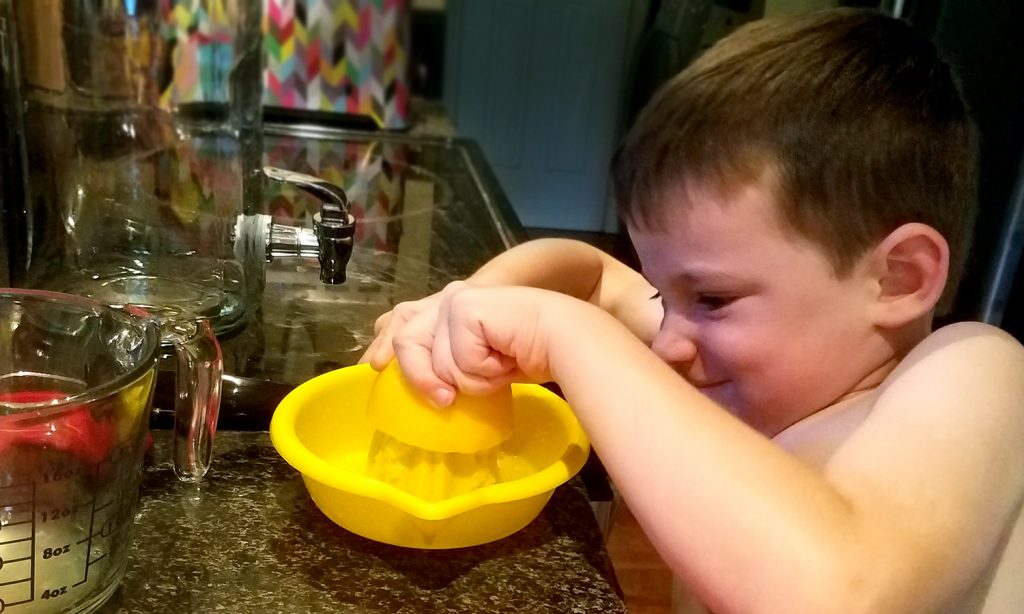 "Jazz, you have two sales in front of you," I said. "You'd rather give up the sure money to go outside and see if you're able to sell these same cups?"
Taos dug for more quarters in a change jar to buy a second cup for himself. He, too, was denied.
The total salable product left in the jar was little more than half a gallon. Had Jasper sold to us, he might well have sold out. Easy success. No risk. But he wouldn't have it.
Making Lemonade of Rain or Shine
As thunder gave way to cold rain, the boys set up their stand: two brown wicker patio chairs and a matching side table. They'd waited all morning for the heat of the afternoon to draw out customers. The cool cloud cover and rain would not press pause on their venture.
At 1:51 p.m., the boys propped their poster board shingle against the side table, pinned at the bottom by rocks. They sat in their chairs on either side of that table and looked up the road, squinting through the cold drops of rain, hoping for customers.
Then their start-up evolved. Taos got out of his seat and started waving and smiling at cars. Then he started holding the sign above his head, a little hand on each side of the poster board.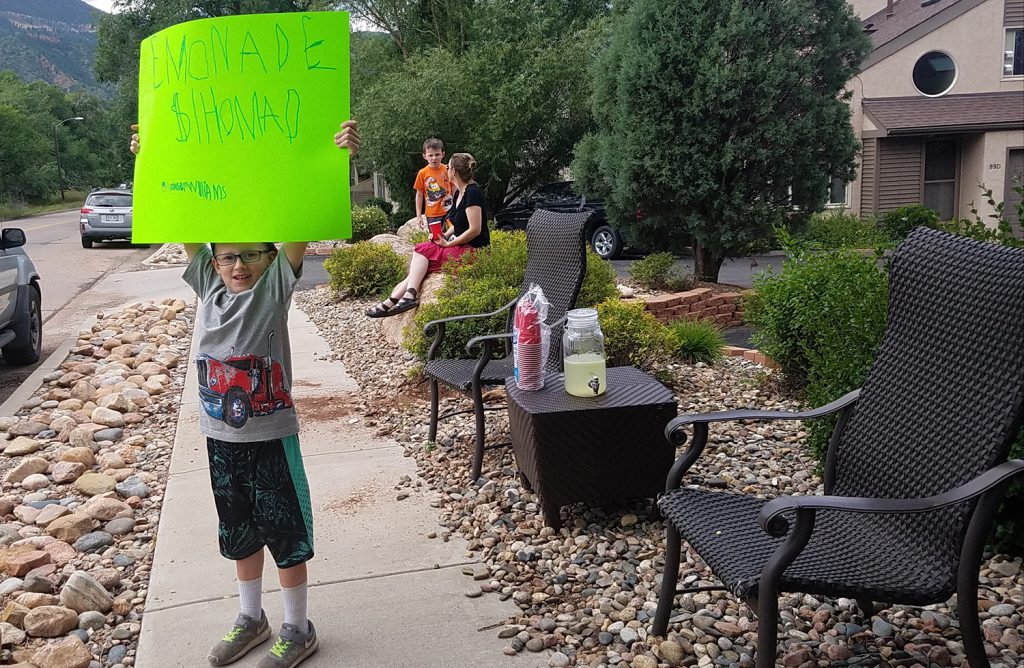 He roamed the sidewalk with the sign, stalking passing cars that turned at the corner, making sure they had ample opportunity to see what he offered.
I told him he was doing a good job. "And I'm being brave, too," he said.
Jasper went in search of customers. He knocked on neighbors' doors. Of his own idea and motivation. "I was super-stressed when I was looking for people and didn't see any coming," he'd later say.
Becca could see him knock on the first three from where she sat on a boulder near the boys' wicker-and-air shop. No one answered. He kept going, around the corner.
Becca pursued. Jasper shooed. He wanted to make his pitches in private, without the embarrassment of a spectator — a mom anyway.
A Run on the Lemonade Stand
And their start-up evolved. Customers came.
First, a man in his twenties, barefoot and looking like he'd raised himself off the couch on a lazy Sunday just to make the effort. When Taos turned to pour a cup of lemonade for him, the guy turned to me, gave me the Hawaiian shaka waggle of his hand and winked. He understood.
As he walked away, Taos stood on a flat boulder behind the lemonade stand with the look of smooth-faced joy only children can have, exclaiming, "Oh, my gosh!"
Beyond that he was speechless — until he saw Jasper and Becca reappearing from between the condos of our neighbors. He jumped down and ran to them to share the news.
And Jasper had his own to tell. He'd rallied neighbors' promises and, within minutes, their presences. Customers were inbound.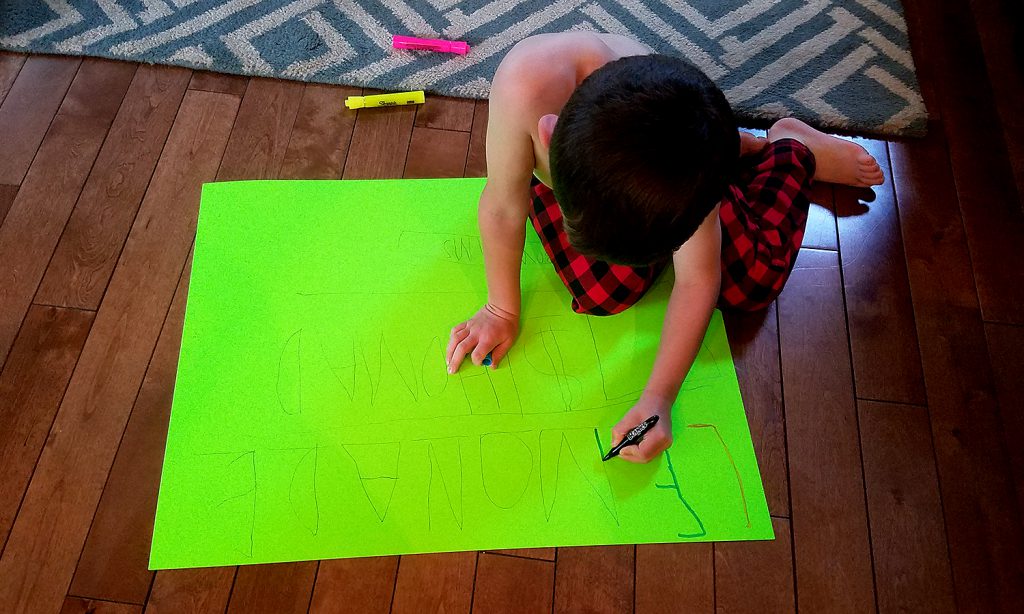 A young girl, not many years older than our boys, arrived with dollar bills folded in her hand. She bought two cups.
Two teenage boys carrying skateboards stopped, each buying a cup.
Another neighbor persuaded by the sweet courage of our 5-year-old arrived. And then another.
Moments after the jar was emptied, the young girl came running back — running! — for more. We had to tell her the good-bad news: We're sold out.
It was 2:29 p.m. In 38 minutes, the lemonade enterprise was sold out, a success.
It was everything opposite my parental anxieties. And it was due to more than the sweet intentions and generosity of neighbors, as wonderful as those were. Much of it was due to the actions of our sons, who wouldn't sit in the rain to wait and see.
They sought their success, with energy and courage.
As we finished clearing away evidence of the pop-up venture, Taos walked through the door with the heady buzz of success, "Oh my gosh, I'm tired. That was awesome."
---
Photos: Preparation photos were made by Becca / connectsdots.com + @connectsdots on Instagram. Others by Adam.