More. It was time.
Sara Berry and Anna Papini, the sister-duo behind Anna's Apothecary in downtown Manitou Springs, Colorado, had been in business for two years. They'd tapped the full flavor of farmers markets and self-hosted events at Sara's house.
The quarter-acre herb garden in Sara's yard was not enough to keep up with demand. And Sara and Anna only had so many green thumbs and hours in the day to keep up with the garden that couldn't keep up with demand for their thriving herbal business.
They were at the leading edge of what would become an herbalism Renaissance. But those details are covered in Part One of "The Art of Apothecary."
…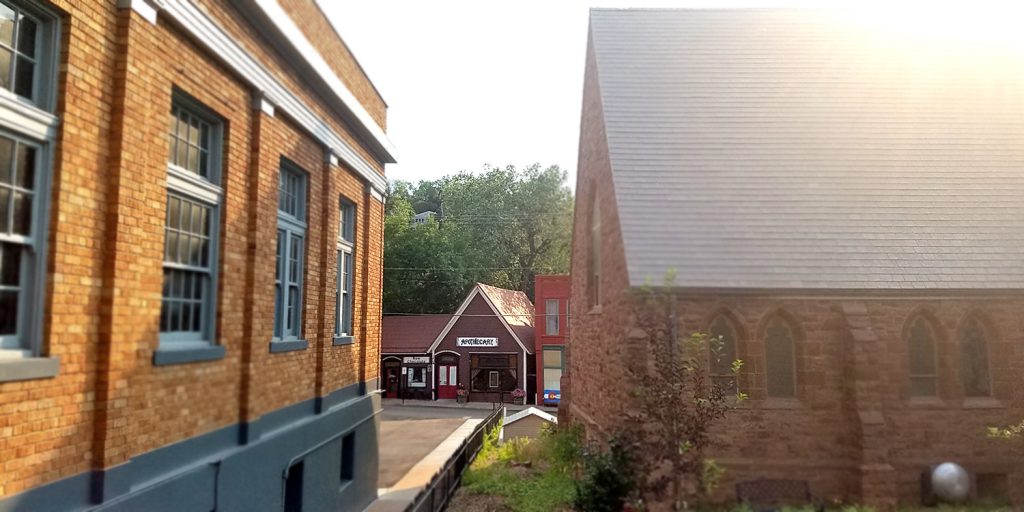 Growing the Apothecary
Anna's Apothecary occupies the main space of 116 Cañon Avenue. Now.
Its small annex / appendix / foothold in the front-left of the shop, currently the storefront for Radiantly Raw Chocolate, had been its leap into brick-and-mortar. That was in spring 2014. Within less than a year, Anna's Apothecary had another opportunity to stretch, to move into the main shop, formerly an organic grocer co-op.
That. Has made the difference.
Humanitou: Herbalism and apothecaries were — still probably are — not widely known ideas. How did Anna's Apothecary grow so quickly?
Sara: Being here in this shop has helped us to grow like we have. If we were still at farmers markets, we would be putzing along. When we started, herbalism was still a new idea. It's experienced a Renaissance. We landed in a brick-and-mortar shop, and that was fortunate.
We have built the business on the ethics and principles of permaculture. There are three ethics and 12 principles. We started slow and built on our success. We're fortunate that we're five years in and we both can make a living, we've expanded, and we've added staff.
Anna: So many businesses start off taking $50,000 from an investor and they immediately are in suffocating debt. We've built organically with minimal debt.
Sara: We have a really great landlord, too. And we have really handy husbands who have helped build out the shelving and ladders. They've hung the wagon wheels (in the kitchen, where pots hang). They do whatever it is we need help with. They've been really essential to our success, and have been incredibly supportive.
---
The Three Permaculture Ethics
Care of Earth.

The Earth is the very thing that sustains us, it provides us with all the essentials that keeps us alive – air, water, food, shelter – and it is the

only

source of these essentials, we can't get them from anywhere else. [

Deep Green Permaculture

]

Care of People.

Meeting people's needs so that people's lives can be sustained and have a good quality of life as well but without damaging the earth. [

Heathcote Community

]

Fair Share.

Permaculture seeks to divide these resources fairly amongst people, animals and plants alike, not forgetting future generations who will need food, water and shelter just as much as we do now. It's 'one planet living.' [

Permaculture Association

]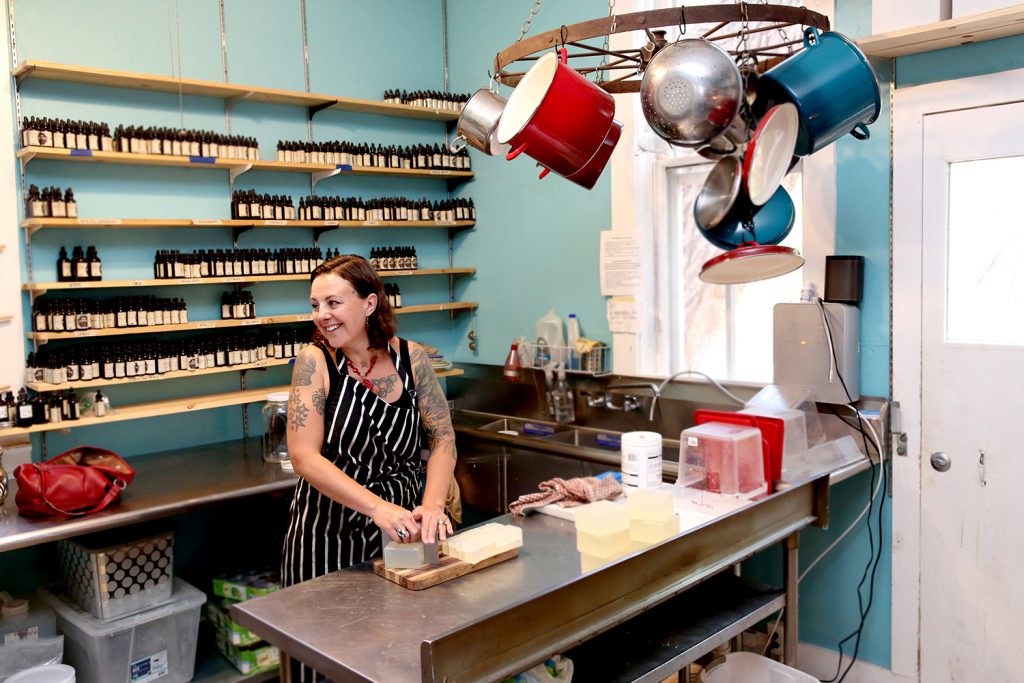 Localism Herbalism
When the sisters started the apothecary business, they paired Anna's herbalism know-how and experience with Sara's gardening skills and quarter-acre yard of opportunity.
With the quick and steady business growth, they needed something more, something different to help them keep up. They stopped the herb-growing piece of the apothecary, and partnered with organic herb growing farms in Oregon and California to supply most of the ingredients Anna and Sara use in their handmade products.
Sara: We also work with local farmers for some herbs, like chamomile and calendula. We have worked with the Arkansas Valley Organic Growers (AVOG) in past years, though not recently.
Anna: Ninety percent of products in our shop are made by us. The other 10 percent come from local vendors. Our furthest vendor is in Denver.
Let's clarify: If the herbs are coming from the West Coast but you produce the products, and with local vendors …
Sara: When we say producing, we mean making the tinctures, soaps, bitters, elixirs, beauty products … we don't mean growing the herbs. We're not able to keep up with that part of it anymore.
And 'local' among local-food, slow-food advocates is 300 miles, that's what they consider local.
Anna: I would say anything in Colorado would count. It's our home state.
Sara: It's about reducing carbon footprint.
Science, Not Witchcraft
It might touch a nerve, if also senses of humor, to confuse what Anna and Sara do with books of sorcery and witchy spells.
"When people say there is no science involved in this, I just want to smack them," Anna says.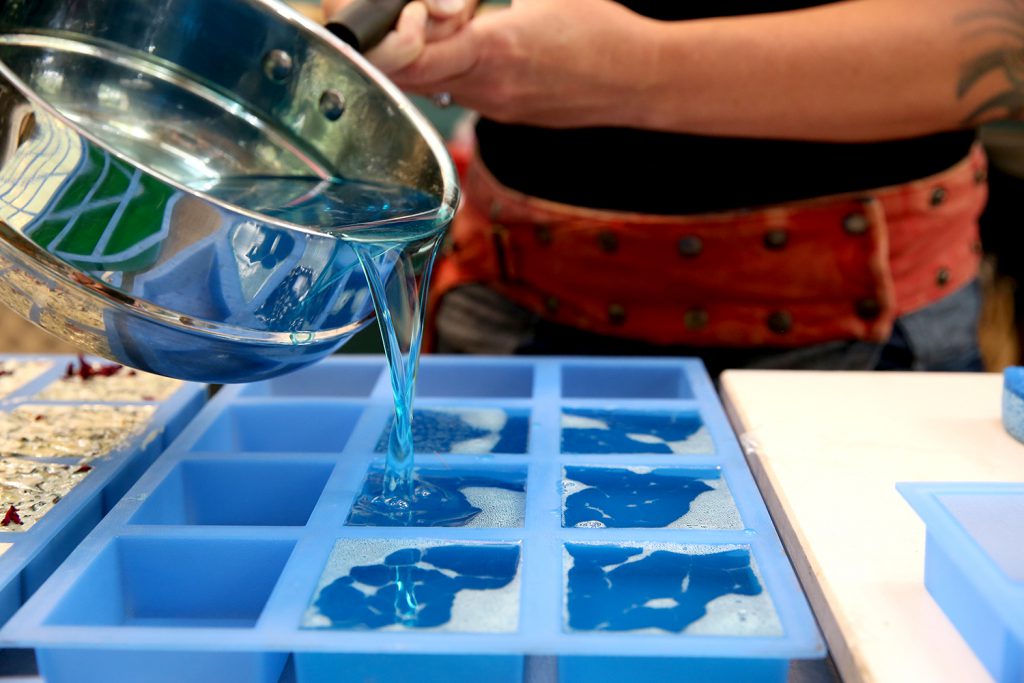 Sara, pouring soap into blue silicone square molds on the other side of the small kitchen, laughs. She knows all too well the length of experience and the depth of education Anna has tackled to make this possible in the highest-quality, most-stringent ways. She knows the process — the FDA-freakin'-compliant process — they follow to make sure what they do is anything but hocus pocus.
Anna: We're not throwing things together willy-nilly. We're FDA compliant. When you're being trained as an herbalist, it's stringent. You have to really know the herbs, the way they react with one another, and the way they are synergists.
Synergist [sin-er-jist], noun, 1. Physiology, Medicine/Medical. a body organ, medicine, etc., that cooperates with another or others to produce or enhance an effect.
Anna: For example, we put ginger in a lot of our blends, because it's a synergist. It opens up your blood vessels to better allow the other herbs to work through your blood system, work faster and serve their purpose.
Sara: This is medicine in its unbastardized version. This is where medicine comes from. Herbals are highly nutritive.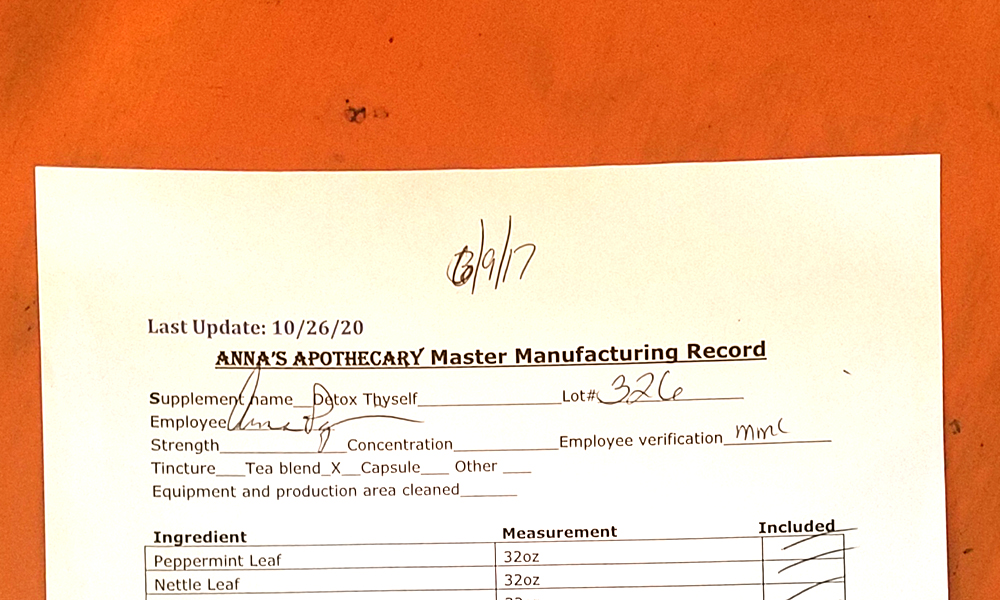 Keeping Herbalism on Track
Anna lays out the accountability efforts of Anna's Apothecary.
Anna: We track everything we do. The herb growers we buy from track every aspect of the growing process and we have to get their certificates verifying that.
When we receive an order of herbs from a grower, the first thing we do is log it in the computer: what arrived, how much, how it was processed (cut, sifted, whole), what part is to be used (fruit, bark, leaf), the lot number, and the herb's common and Latin names.
Then we bag a representative sample of at least four grams and label it with that same information. We are required to store that sample for two years.
(Anna pull's out a metal box, filled to its top cover, each with a small white label filled with small ink print.)
Anna: Next, we create a master manufacturing record. For example, if we're making a tea we date the record, note the product, lot number, ingredients, measurements, packaging description, and any special notes.
Sorry if this is confusing. Basically, it's a detailed tracking process.
(While Anna shows an example record, Sara crosses the kitchen to grab a jar and show me the bottom, where a simple white sticker is attached. It notes the product's lot number.)
Sara: We're legit (she says, with feigned drama). That's the key.
What Is a Tincture?
Answering what and how questions like, "What is a tincture?" naturally are part of what Anna and Sara do.
I laid out my ignorance about herbalism from the moment I introduced myself to Sara. The first time I set foot in the shop: "I don't know what a tincture is. I'm a clean slate. I want to learn about what you do."
Anna and Sara are generous with their flow of know.
Anna: A tincture is a highly concentrated herbal extract taken internally.
Sara: They are very pure and very strong.
Anna: "Deep Breath" is one of my absolute tried-and-true herbals. I used to make it as
a tea, but now make it as a tincture.
Sara: A tincture has a 45- to 50-year shelf life. A tea only has a year shelf life.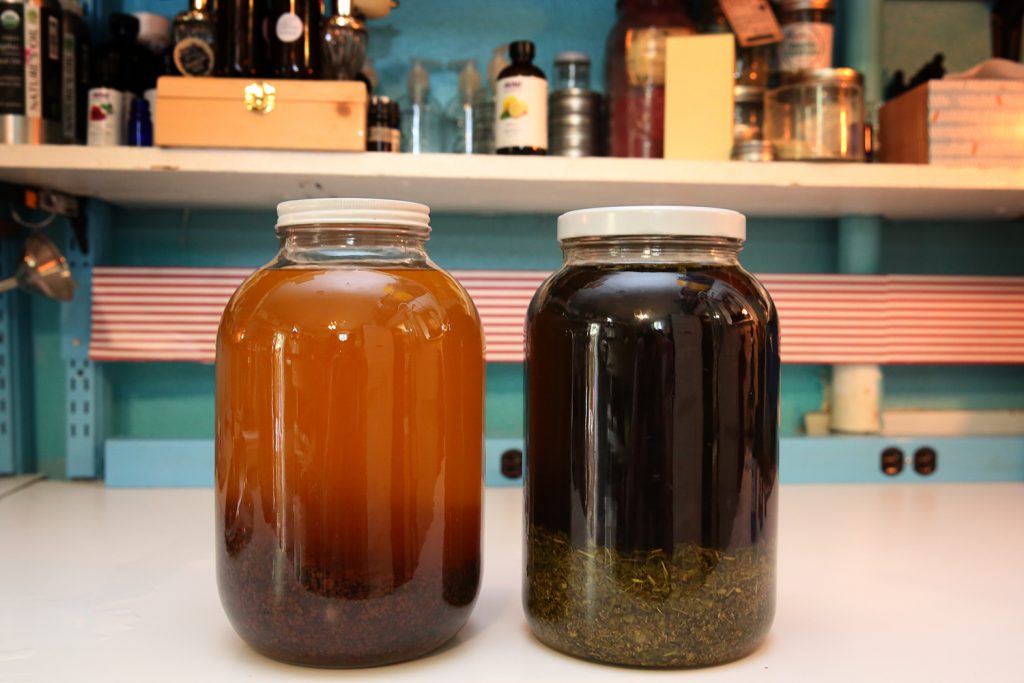 How Is a Tincture Made?
Anna describes the tincture process while holding a gallon glass jar with a white screw top. It contains "Stress Less," the most popular tincture sold at Anna's Apothecary.
"People are stresssed," Sara says, drawing out the word for comic, dramatic effect. Anna doubles it, "People are st-ressed."
The sisters show a great give-and-take relationship, a lot of humor and self-amusement.
Anna: You can make tinctures from either a single herb or blend of herbs. I favor blending, but there are purposes for single-herb tinctures, too. This is the old-fashioned way to make tinctures.
The herb is put into an empty gallon jar in measured doses. A rule of thumb is to fill the bottom two to three inches of the jar. But I go by measurements.

Then 190 proof pharmaceutical-grade cane alcohol is poured into the jar, filling it to near the top.

A sticker with the tincture's product name, date, and herb lot number is fixed to the lid.

The jar is placed into a dark place for a four-week macerating process. During maceration, the alcohol absorbs the chemical compounds from the herb.
Sara: We use our grandmother's old pie cupboard for maceration.
Anna: We make sure the right vibrations go into them, too. We shake them every few days to keep the herbs from getting impacted at the bottom.
Anna turns over the jar of "Stress Less" tincture, showing me how easily the herbs flow and float to the other end.
The sisters infuse their own good vibrations into the process, saying mantras or little prayers while handling the macerating tinctures, one gallon jar at a time.
Anna: I'll hold it up to my chest, over the heart chakra, and, for example, will ask the tincture "to heal my family, my community and myself.' If I'm having a bad day, I won't make tinctures. I don't want to pass along the bad vibes. And Sara has a very high vibrational energy.
Sara: Thank you. Shucks. (faux embarrassment)
She says to me, "I've done a lot of energy work over the years."
"There's no mistake that three of us sisters are here," Anna says, slightly nodding out the kitchen doorway to the shop where Emily, the youngest of the three at 35 years old, is working. "We all bring different vibrational energies. Emily and Sara are the two girls I trust the most in the world and get into the gnarliest fights with."
(She and Sara laugh … of course.)
Sara: And then we move on.
Anna: And then we move on.
Sara: We also crack each other up. That's fun.
Anna: That's fun.
In Part One of "The Art of Apothecary," read about:
The destiny that brought Anna's Apothecary into existence

How Anna and Sara faced the unknown of opening shop

And overcoming the perception of witchcraft
Details
Anna's Apothecary
116 Cañon Avenue
Manitou Springs, CO 80829
annasapothecary.com
719-685-2260
annasapothecary@yahoo.com
Facebook: /annasapothecary
Instagram: @apothecary_sisters