When I was a young kid I had access to a small, counter-top printing press. I'd place each metal character in order, right to left. I'd use a rubber roller to coat the backward letters in black ink, readying them to be mirrored onto light-blue poster board. Only one word I ever printed still sticks in my mind: Entrepreneur.
It was a word a grown-up, a family friend, had used to describe me one day. I don't remember what I was doing in that moment to spark the label. Maybe his comment was nothing more than a passing, kind, playful word to a child showing curiosity, and some degree of initiative and ingenuity in whatever it was at that time.
I'm not convinced an entrepreneur is what I am even now, and not in the conventional sense for sure. But I haven't forgotten being called that or how the next opportunity I had to stand at the printing press and express something, I chose with some pride to print that one word.
A definition of entrepreneur describes a person who takes on greater than normal financial risks to start and run a business. But that cold reading of the word leaves out the emotional, physical, and psychological risks that are inherent in hanging your shingle and saying, "I have something special to offer."
Living in Manitou Springs, among so many artists and art organizations, and supporters of creativity … Getting to meet these people and see how the creative flow connects them … I can only think again of the courage needed to "take on greater than normal financial (emotional, etc.) risks" to live their passions. Artful entrepreneurs.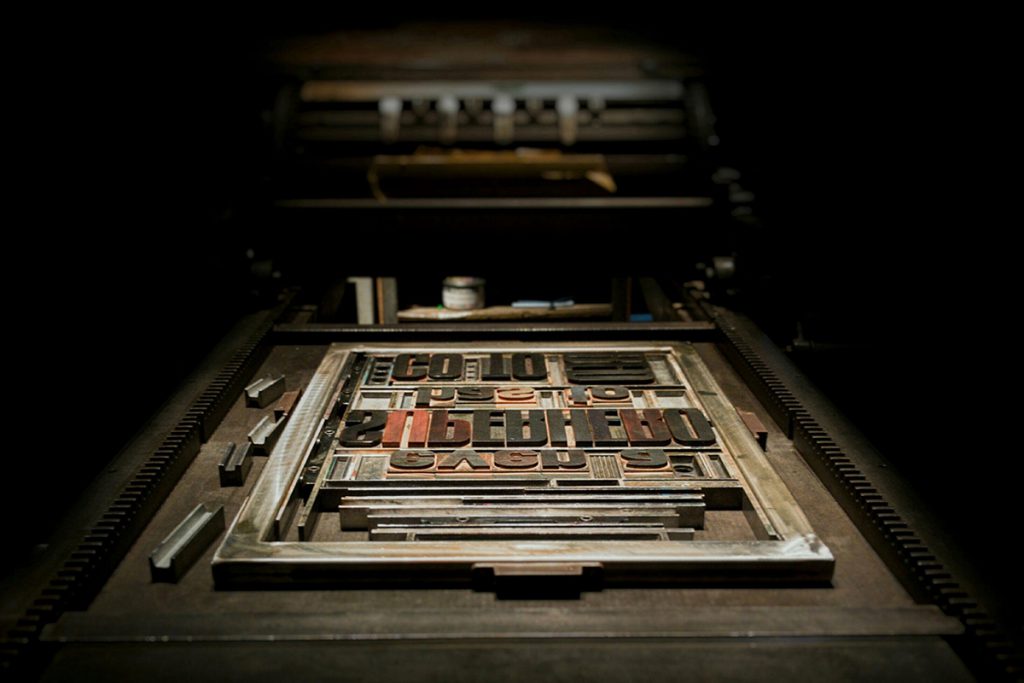 Hub of Courage
There is the cliché, and some say myth, of the starving artist. So, to pursue a life of professional art means riding those waves that come with the "will I or won't I" make it, make dreams come true, make an impact, make a living, and serve a purpose with my talents.
In The Artist's Way, a book I wrote about in an earlier post, Julia Cameron talks to every human being and the creator locked within. Kids have the curiosity and openness to get lost in imagination without the self-censoring adults use so often to abuse and lose themselves.
In that light, that makes pursuit of a life of art extraordinary, courageous, bold. It makes an artist a creative, maybe even spiritual, entrepreneur. And it makes the abundance of artful entrepreneurial spirit in Manitou Springs remarkable.

At the hub is Manitou Art Center, a collection of spaces where kids and adults can make, exhibit, teach, talk about, and experiment with art, and cultivate passions: "A laboratory for the arts. We revolutionize and facilitate creativity."
There is e11 Creative Workshop, "An art and tinkering space for children 3+." There is the Concrete Couch.
There is the Makerspace where adults can tinker, too. It holds space, tools, materials and community to empower exploration with metal, wood, electronics, photography, paper making, 3D printing, laser cutting … Imaginations and even inventions. Don't have ready-honed skills for the makerspace and aren't sure what you want to learn or do? Invent your skills, through patience and why-the-hell-not attitude. Invent your artist self.
Creativity and art flow through Manitou Springs. The hub — the Manitou Art Center — is a place to start connecting and to dip a toe in the flow. The bold and courageous — the creatively, artfully entrepreneurial — make that possible for us all.