Charles H. Rockey died on June 16, at 87 years of age. The news was shared thousands of times via social media in the hours and days that followed, posts marked with teary-eyed emojis, and comments of love and appreciation from near and far.
Known affectionately as "Rockey" around the town in which he loved to live for nearly a half-century, Manitou Springs, Colo., the painter, poet and former art teacher is remembered by generations of former students and adoring locals.
He also is remembered by generations of travelers to Manitou Springs as a welcoming wizard of light, creativity and love who lived and worked in a distinctive blue, three-story building on Cañon Avenue.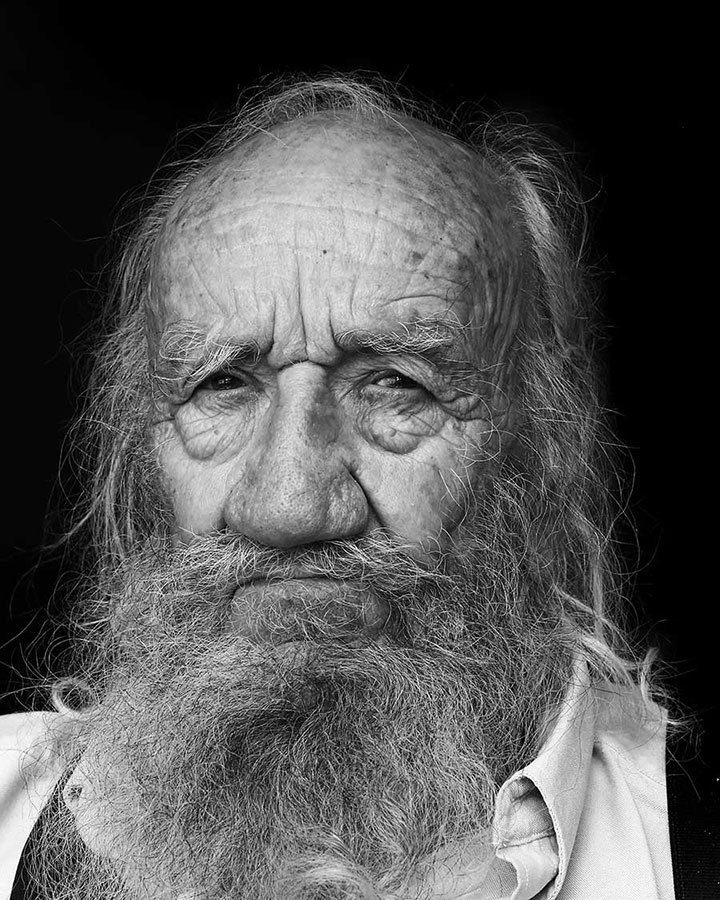 Photograph by Adam Williams | Humanitou
Rockey has been called the Godfather of the Manitou Springs arts scene. He painted nearly a 1,000 plein air paintings around the town since he moved to it from Colorado Springs in the early 1970s.
"When people look at my Manitou paintings," Rockey once wrote, "I want them to say, 'Oh, yeah, that's my street.' But I also want them to say, 'You know, I never thought of my street as an artistic scene before.' 
"I hope my work makes them see how their own streets, towns and lives have beauty and interest. Also, though, I want them to experience the love I felt while painting mine."
Rockey made countless other works of art too — "Intentional and Non-Intentional," as a handwritten sign taped to his window read. 
His book, Love Songs of Middle Time, was the crown atop a lifetime of near-constant creation. (Even in church, Rockey drew on the church bulletin — while continuing to listen to the sermon, he assured me.) 
Rockey illustrated Love Songs and co-wrote it with his daughter, the actress Hannah Rockey. A thousand copies of the art book were published in 2015.
As described in The Gazette, Love Songs of Middle Time "is an elaborately inked 3-pound coffee table tome containing more than 115 love songs and fables. It took about 14 years to complete."
The Charisma of Rockey
Thousands upon thousands of visitors who streamed by his storefront studio each summer, the season when tourism swells in the town, couldn't help but peek through his windows with wonder and curiosity.
Many who saw Rockey over the years, sitting on a bench outside his studio or working at a table inside it, ventured through his doorway and were rewarded with a story — and maybe a piece of his work — they'd gush about. 
I saw it happen in front of me, the joyful overwhelm of strangers who had entered out of curiosity, accepted his invitation to sit, and were awed by him, his work, his self-styled environment, and the overall experience. They knew they'd stumbled upon a treasure, and they enjoyed it as if they were the first.
I've seen it happen on social media, where visitors have posted something of their minutes with Rockey, almost certainly not knowing who he is to so many. And no doubt many more of those stories live on in the privacy of analog memories and post-vacation tales that are told for years to come.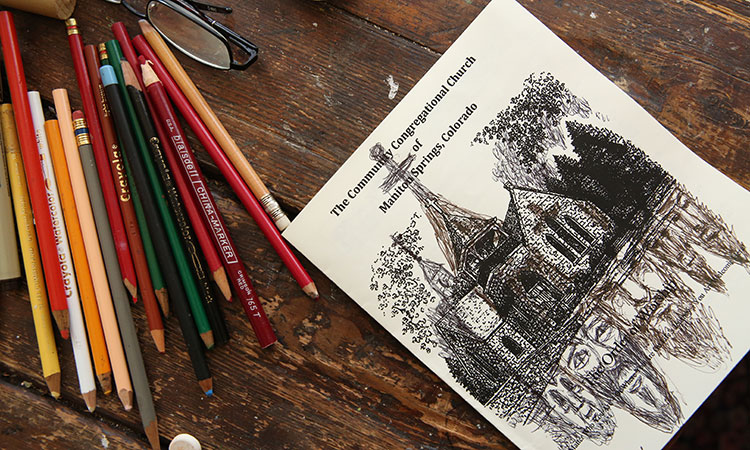 Rockey was humble and charismatic, and perhaps the creative heartbeat of a town steeped in art and history and charm. Occasionally a visitor would ask to collect his thoughts, to document his wisdom on life and art.
Rockey shared some of his insights with me and Humanitou on a few occasions. That time together is something for which I am grateful. His memory was fading, yet he remembered the essence of his message: love, creativity and more love.
He shared his story and perspectives in print and radio interviews, and with the occasional film crew. For that, we all can be grateful. It's in this collective recording of a legend that we can return to his voice, his artfulness, his way of being, though he no longer sits on the bench outside his studio, or creates anew at that worn table inside it.
Collected Interviews with Charles H. Rockey
Here is a small collection of what Rockey shared with interviewers in recent years, followed by a recording of "Rockey Road," written by Don Goede in tribute. 
In what was his last profile by The Gazette, only a few months before he died, Rockey described his love for Manitou Springs: "The moment I got over that hill from the Springs and entered Manitou, it was like, 'Hey, this is it. This is where I want to live. Manitou is kind of fairy tale land for me. It's just magical. I can't imagine a better place to be."
From The Gazette's story announcing Rockey's death, a quote by the artist from a May 2018 interview with the newspaper: "One lady said, 'I have one of your paintings, and it gives me love.' I said, 'That's because I put love into it.' A hundred thousand times, it's happened — the verification of love. But the love's got to be in there, to come out."
The Colorado Springs Independent ran a story in May 2015, announcing the release of Love Songs of Middle Time. In that story, "Everything Is Illuminated," Rockey said: 
"I used to have my bed right there next to the [storefront] window, and look at the view I had! That lilac bush across the street, the mountains, and look at that tree — that new green, it changes every minute. I give nature an A-plus."
The poet Noel Black interviewed Rockey for KRCC radio in 2015, around the time Love Songs was released. He describes Rockey as "the embodiment of this mountain hamlet, with his fantasy-inspired artwork and hippie charm." Black talks with Rockey about his life, his road to this place and Middle Time.
The Pikes Peak Library District published a 2013 video interview with Rockey, in which he talks about his not-yet-finished work on Love Songs and his other artwork. 
In describing Love Songs, Rockey said: "All the book was inspired by what I call Middle Time, a Tolkienesque time period, where love was just all over the place. Everybody knew about love, and that's what life's all about. … I also wanted the book to be an extension of how we should be together."
---
---
Photographer and filmmaker Chris C. Bowden took a chance and asked Rockey if he could spend some time with him, in 2015. Rockey agreed.
"Like many others, I was immediately taken by his character, the art, the old building, the light," Chris says. "It was like a movie set or something. I knew this guy most likely had been there a long time and had a rich presence in town. It seemed like everyone knew who he was.
"I struck up a conversation and simply asked if I could do a story on him. He was gracious enough to let me, a complete stranger, in his home for a few hours to chat. That's a very kind thing to do, risky thing to do, and open thing to do."
---
---
Rockey was original. He was strong in his convictions about the meaning of life, yet in a gentle way. He taught by his presence and actions.
Many say he could have been even more known as an artist than he was, that he could have lived the life of commercial success. He didn't want it.
He maintained a no-sell policy for his art between his infrequent shows. He considered money a bad driver for the artist's life, an otherwise good life.
"When I sit down to paint," Rockey said, "I want to go in whatever direction the moment takes me. Every endeavor should be a new challenge, each stroke of the brush leading to who knows where. That doesn't happen when I paint out of an awareness that what I'm doing will go up for sale."
Rockey lived his life, his art, his love to the end. We all are better for it.
---
"Rockey Road"
Words & Music by Don Goede
Mandolin, Bass & Drums by Michael Kimbrell
Photo by Adam Williams | Humanitou
Lyrics to "Rockey Road"
I'm looking for a rhyme and a reason
To give my heart and mind to Manitou
I'll meet you at the corner of Rockey's road
Where we'll laugh and smile and ponder what to do
And maybe we'll see the man himself
And hear him tell us a tale
About all the things he's seen and drawn
In this town,
Of Manitou
Through his eyes,
And his hands,
And his love, too!
I've been looking for my true home forever
And I think that it's been here all along
I better find a garden to plant these seeds and find a place to rest to these weary bones
And I see the signs in paintings of his
With such beauty, form, and light
Especially at Adams Mountain Cafe
In this town,
Of Manitou
Through his eyes,
And his hands,
And his love, too!
---