In the era of smartphone selfies and social media sharing, I have found myself questioning the intentions of the selfie-maker, including, on occasion, myself. 
Why do people fill their social feeds with photos and videos of themselves posing and puckering and exposing, and even dying to get that special, envy-inducing selfie by the waterfall's edge? 
Looking in the mirror … Why do I, on occasion, make and even share photos of myself?
I decided it was worth exploring some context of self-portraiture's place in art history and as a tool of self-reflection, to help me come to a clearer consideration of the "selfie." 
I think there is a broad cultural perception, possibly a generational one, that views selfies — a 21st century version of self-portraiture that typically is defined by its smartphone creation for sharing on social media — as vain and self-touting.
That perception of vanity can be valid. We live in a culture of personality. And maybe it is the prevalence of media — traditional mass and evolving social — that makes it feel like everyone is saying, "Look at me. Love me." 
Yet, self-portraiture is a long-standing tool in creative exploration and the work of artists. 
It has been used for functional and practical reasons, e.g. the model is available and requires no payment. It has been used as a means of storytelling, cultivating narratives in which the artist is a character, and for digging through one's story as a means of connection to the universal human condition. It also has been used as a calling card for an artist's talents. Among other reasons.
If we look at self-portraits across forms (e.g. visual, written, sculptural, musical), the Self long has been fertile soil for connecting with and sharing the human experience by the most direct and intimate means.
First Known Photographic Self-Portraits: Precursors to the 'Selfie'
Robert Cornelius often is credited with making the first photographic self-portrait — and the first portrait in America — in October 1839. It was a daguerreotype, the style of photography named for Louis-Jacques Mandé Daguerre, a French artist noted by history as one of the fathers of photography.
But there is intrigue in this telling of history, and it sheds light on the selfie as it was even before Robert Cornelius made its mark in America.
Daguerre might have duped fellow Frenchman Hippolyte Bayard out of the recognition of being the inventor of photography and, subsequently, out of his footnote in history as the first maker of the photographic self-portrait. 
Bayard, who would present the world's first public exhibition of photography, in June 1839, claimed to have invented photography** earlier than Daguerre. He experimented with making photographs of plants and statues, architecture and street scenes. He made portraits, and is thought to have made self-portraits as a means of cultivating his craft.
When a friend of Daguerre persuaded Bayard not to announce his photographic process to the French Academy of Sciences in 1839, Daguerre stepped forward and claimed the mantle.
The following year, having resigned himself to the loss, sort of, Bayard would make his "Self-Portrait as a Drowned Man." It was his public outcry of grievance, along with this written notice:
"The corpse which you see here is that of M. Bayard, inventor of the process that has just been shown to you. As far as I know this indefatigable experimenter has been occupied for about three years with his discovery. The Government which has been only too generous to Monsieur Daguerre, has said it can do nothing for Monsieur Bayard, and the poor wretch has drowned himself. Oh the vagaries of human life … ! … He has been at the morgue for several days, and no-one has recognized or claimed him. Ladies and gentlemen, you'd better pass along for fear of offending your sense of smell, for as you can observe, the face and hands of the gentleman are beginning to decay."
The dramatics and intrigues between Bayard and Daguerre aside, Robert Cornelius stands as history's first photographic "selfie" maker in the U.S.
____________
**Note: Talking about the invention/inventor of photography as a medium overall gets blurry quickly. The different methods and technologies allow for a lot of room in the conversation to date photography back to the 17th and 18th centuries. 
Names commonly associated with significant aspects of early photographic invention and evolution include: Johann Heinrich Schulze, Thomas Wedgwood, Nicéphore Niépce, and William Henry Fox Talbot along with Daguerre, whose invention was deemed the first publicly viable photographic process … with, perhaps, Bayard serving as a largely unsung sidenote.
____________
Paintings, From the First Self-Portraits
The Panel de las Manos (Panel of the Hands) was found in the cave of El Castillon in Cantabria, Spain. The paintings, in negative, showed the red outlines of hands, much like contemporary American children do when drawing Thanksgiving turkeys in pencil. 
These partial self-portraits were found in 1903 and are the first known examples of artists making visual work of the self. The paintings were dated to more than 40,000 years old using uranium-thorium dating in a 2012 study.
Thirty thousand years later, another Cueva de las Manos was painted by indigenous peoples of the Patagonia in Santa Cruz, Argentina. Same "invention," in negative stencilings of hands, and in positive.
It would be yet another 10,000-plus years until self-portraiture would be embraced as an artform unto itself by the Renaissance artists. One of the earliest Renaissance painters to develop the style was the German, Albrecht Dürer. Dürer started making self-portraits as early as age 13 (1485).
Dürer's Self Portrait at the Age of Twenty Eight (1500) "gave Dürer the opportunity to display the breadth of his technical skill, particularly in creating the textures of his luscious hair and rich fur. It is likely that the portrait remained in Dürer's cabinet, exhibited in private viewings to impress prospective clients and used for demonstrations to his students." (Source: WikiArt, the Visual Art Encyclopedia)
Caterina van Hemessen's 1548 self-portrait, is possibly the earliest self-portrait by an oil-painter who was a woman. And many would follow in subsequent centuries. Looking much closer to our own time, Frida Kahlo comes to mind.
The early-20th century Mexican artist could have been speaking for countless self-portraitists when she said, "I paint myself because I am so often alone and because I am the subject I know best." Her self-portraits often include looks into the artists' physical and psychological wounds, of which she endured more than her share.
Kahlo painted 55 known self-portraits. That was more than a third of the paintings she produced throughout her career, which was shortened at age 47 when she died of a pulmonary embolism. She'd suffered a lifetime of ailments dating back to her early childhood, in which she lived with polio.
Normal Rockwell's work as a painter and illustrator spanned much of the 20th century. His subject matter typically was everyday American life. Yet when he was asked to paint a self-portrait for the February 13, 1960 cover of the Saturday Evening Post, a publication he would paint a total 323 covers for between 1916 and 1963, he made it extraordinary and iconic.
Rockwell included four historical self-portraits within his Triple Self-Portrait, ones by Albrecht Durer, Rembrandt van Rijn, Pablo Picasso and Vincent Van Gogh. They, essentially, served as a capsulized history of self-portraiture in painting until Rockwell's time.
Triple Self-Portrait "is regarded by many as a thoughtful portrait of the artist's three selves: the painter, the observer, and the public person." (Saturday Evening Post, 2017) 
Evolution of Self-Portraiture in Painting & Photography
Along the way, realism gave way to abstract. Pablo Picasso is a one-man illustration of that course, having drawn and painted self-portraits throughout his years from 15 to 90. 
Along the way, Picasso dabbled in various styles, including Neo-Classicism, Surrealism, Cubism. (A self-portrait he painted in 1896 at age 15 is eerily reminiscent of the American rock star who would revel in Purple Rain a century later.)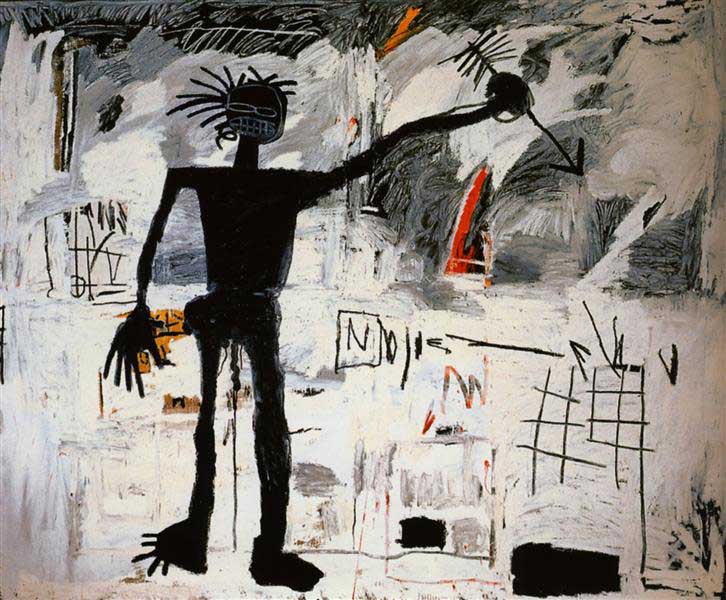 In the late-20th century, Jean-Michel Basquiat took his street art sensibilities into major museums and galleries, in part with his abstract self-portraits that reflected on his half-Haitian, half-Puerto Rican Brooklynite heritage.
Andy Warhol used to say he made self-portraits as a reminder that he's still around. He also seemed to use self-portraits as a means to explore the false constructs of identity, the hollow nature of the ego.
Cindy Sherman also uses photographs of herself as exploration of characters, versions of ourselves, of humanity, of culture. Though, to call these self-portraits is debatable. 
Sherman uses her face and body more as the canvas, the model-actress dressed up as anything other than the true Cindy Sherman to convey stories that reflect … us.
Is that possibly what all selfies/self-portraits are in the end, a reflection of the collective we, even if it's not knowingly so by the contemporary social media selfie-maker? A mirror of ourselves, as individuals and in the whole? I think so.
We each spend extraordinary amounts of time looking outward, dissecting, judging and lifting up externals, and absorbing the cues and "rules" of those externals that signal how we are to relate to society. I don't think we can fairly judge individuals separately from the context of the collective's behavior.
For the curious humanist, creativity always has been a tool to understand the connection between the individual and the whole by digging into the internal. 
In spiritual practices, we go inward. The work we do there ripples outward. The work of artists often is a spiritual practice of self-inquiry, exploration and expression. It reveals and ripples.
Self-portraits then are a mirror, not only of the artist, but of the viewer, listener, reader. If I feel an aversion to a seemingly frivolous and shallow selfie-obsession on social media, then maybe it's because I don't like what the mirror is reflecting about our society, of which I'm a part and an influence.
So what is my response, my self-inquiry and ripple in the face of judgment and aversion? My influence? To ask people to share their stories, to shine light on them. To see them, not to turn away from them.
The value in sharing our own stories comes in the universal relatability, the fact that in your story, I not only connect with you, but further connect with my own story, and come to deeper self-knowledge. All that extends then to deeper understanding of "other," of the greater we.
It's why I have the one-on-one conversations I do on the Humanitou Podcast, to open a door for each of us to see ourselves and the collective in the stories, experiences and insights of the podcast guest. I trust that that factors into why, if you listen to the podcast, you listen to the podcast.
Like much else, it comes down to intentions, I suppose. If vanity is the goal, then it's one easily achieved. (Though, these questions still come to my mind, "Why does that person feel so unseen? And what is our shared societal role in that?")
If the intent is to do like many inquisitive artists have before us, to observe the essential not only in ourselves but humanness universally, that essence of spirit and being that exists beyond flesh-and-bone impermanence, then maybe I/we can see the Self(ie) in a softer and more worthy light … 
and give ourselves a fresh look in the mirror.