Rhonda Van Pelt has a one-of-a-kind role in Manitou Springs. As Managing Editor of the Pikes Peak Bulletin since April 2015, she's immersed in all things news and conversation-worthy in this mountain town, population 5,000+.
Having grown up in Pueblo, Rhonda moved to the Pikes Peak region in 1993. "I had family in Pueblo, I had family in Denver, and my family had property in Cripple Creek. So, it was just really logical to move here," she says.
Rhonda, 59, often profiles personalities in Manitou, as she did me and Humanitou this past June. She edits the newspaper and leads a team of journalists — one other staffer, and five freelancers — to produce the weekly newspaper.
With the tables turned, Rhonda sat down with me again in her office inside the Manitou Art Center. She took what is a rare seat for her, one of interviewee.
We talk about the meaning of journalism, its opportunities and challenges in a small town, and the one thing she'd "fight to the death for." We talk about her evolution as an artist, one whose photography is on exhibit at Create Cafe through March 9, and what/who inspires her.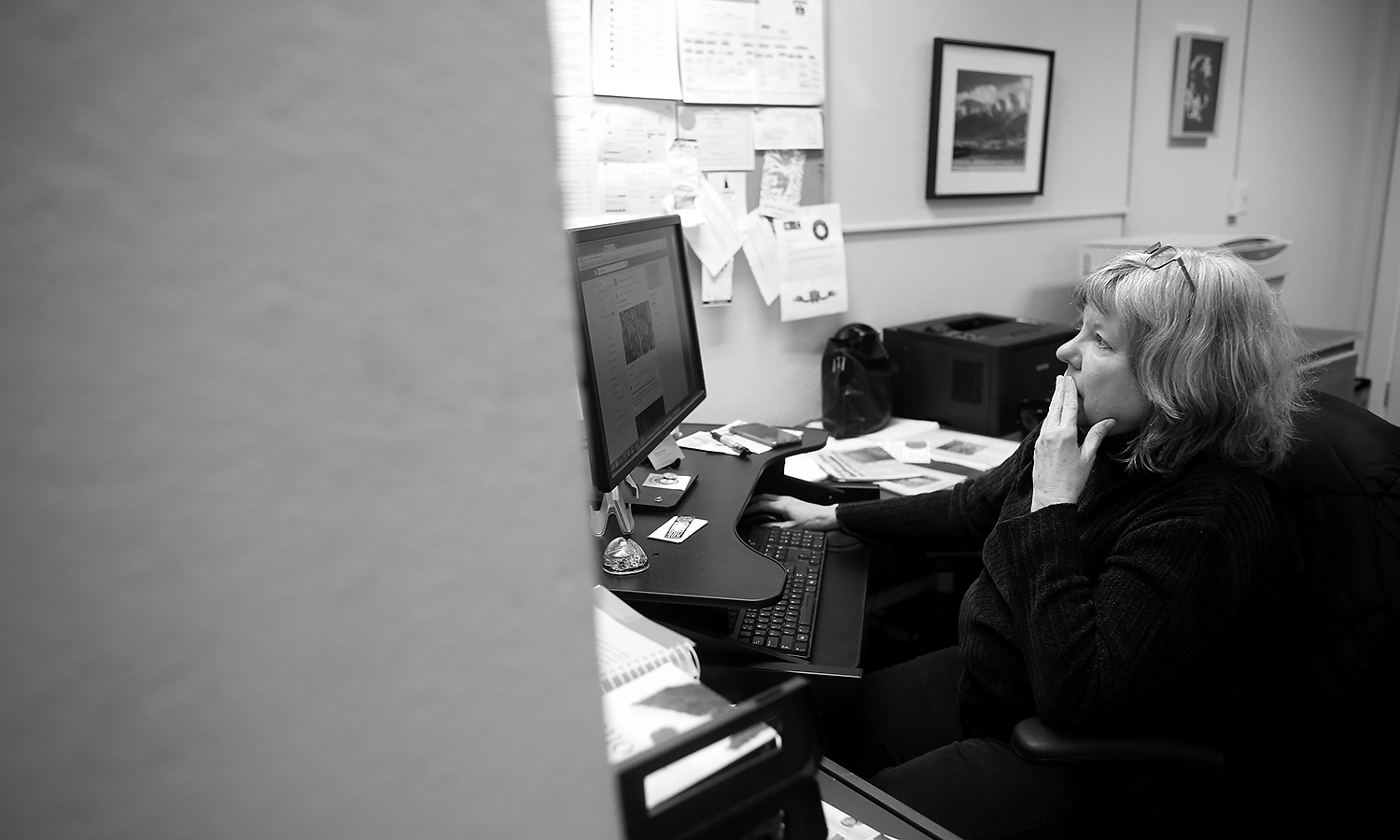 Humanitou: Did you come here as a reporter?
Rhonda: I was a graphic designer. I decided to leave my marriage and quit my job as a graphic designer and move to Colorado Springs.
I love the Pikes Peak region. So I, actually, moved here for a job at a publishing company that didn't work out. I worked at the Gazette for 11 years and I freelanced.
Humanitou: As a designer that whole time?
Rhonda: No. I was a copy editor. My first degree is in art. Then, when I graduated, I realized that isn't really very practical. I'd been a writer for a long time.
My first bit of writing was published in a national children's magazine when I was in the fifth grade. I always loved it, and I minored in English and History when I was getting an arts degree. So, I went back in 1986 and was able to get a Mass Communications degree in two years. Second bachelor's.
I've been able to use both sides, as a graphic designer and writing about art. In this job, taking photos and looking at our freelance photographer's photos, I feel like I use that art background. And, of course, being in the middle of an art center is real, real nice.
Humanitou: You live in Colorado Springs, but I've gotten the impression you enjoy working in Manitou.
Rhonda: It's interesting, because I've spent time here, shopped here, played here, worked here, and around here you get to know people by their first name and maybe the art form that they pursue. And then, eventually, you find out their full name and that they're a retired lawyer and they moved here from England.
I've been a journalist for about 25 years, and I will fight to the death for that. When you start saying, "We don't like your opinion, we're not going to put it out in the community," that's the beginning of a slippery slope.
So, it's been really neat to just keep immersing myself deeper into the community and, hopefully, contributing to it, doing what we can to make it a better place for everybody to live and work. That's what I hope for.
Humanitou: Could you put a ballpark number on community stories you've written in that time?
Rhonda: Oh … it's two to three per week. I'm going to get out my calculator. (laughs) Say, 130 weeks — hard to believe I've put out 130 newspapers.
Humanitou: So, you're looking at 260 to 390 stories. We could easily say 300-plus. Not many of us in any given community could quantify our engagement with people, the time we've spent in conversations learning and establishing relationships like you can. What's a challenge of being managing editor of a local newspaper in a small town?
Rhonda: I've been lucky. It's just worked out that, as a writer, I tend to do more feature stories, because I can plan ahead for those.
I can't work 12 hours solid on Wednesday (in production for the Thursday release of the new edition) and then Thursday morning come in here and say, "Oh, what am I going go to write about next week?" I need to already have something set up, because Monday, Tuesday and Wednesday I'm an editor.
My personality is naturally, predominantly wanting to celebrate the good things that happen. I try being an optimist; I often am a pessimist. But I have to keep my thoughts to myself about, say, local government. People will try to talk to me about stuff, and I'll just say, "No comment." I can't do that.
If you didn't see the column that I wrote, when people were really coming after us, saying we were biased against Mayor Nicoletta. My column, the gist of it is, "No. We're simply reflecting the concerns of the community."
Anybody can write a guest editorial or a letter to the editor and I'll run it, as long as it's not libeling anybody. So, we have to have that open door. When we get nine letters criticizing local government and one supporting it, we're going to run all 10 of them.
This might be a chance to reiterate how strongly I feel about free speech and free press, and that we are not here to say, "Yea, local government. We love everything you do." We're here to say, "Here's what the community is concerned about. Here's what they're saying," and get that dialogue started.
I have never, ever in this position written back to somebody or told them on the phone, "No, we're not going to run your letter, because we don't like what it says, or I think you're picking on so-and-so on city council." You have that opinion, you have those feelings, you have that perspective? Come right in.

I've been a journalist for about 25 years, and I will fight to the death for that. When you start saying, "We don't like your opinion, we're not going to put it out in the community," that's the beginning of a slippery slope.
Humanitou: What would say is the value of having opinion in the newspaper, differentiating having editorials, having columns from strictly reported news–
Rhonda: Yeah, what we call Joe Friday. Just the facts. It is really important.
I think we're lucky as writers that we're able to put thoughts into words. There may be times when people look at our opinion and say, "That's exactly how I feel" or "I never thought of it that way." We need that kind of commentary to, really, serve the community better. It's another way of sharing a perspective with the community.
It might have been in the Seventies, there was a bumper sticker saying, "America: Love it or leave it." Well, you can love a place and still see its flaws, and stay there and help it get better and improve.
Humanitou: Everybody has an opinion. They can have their conversations anywhere and post on social media. Why open the newspaper to printing what, necessarily, must be a select few opinions?
Rhonda: It's a tradition in journalism that we have opinion. It gets that community conversation going, and I think it has more effect and meaning when it's in print than when it's on social media or is just a casual conversation at a bar.
Hopefully, we can respect each other and see each other's perspectives, and respect each other's right to certain beliefs that we may not agree with. The history of expressing opinion in print is part of what makes this country what it is. We'd still be talking with British accents.
The Founding Fathers knew how to use the printed word to get their message out. That's all they had. That, and the coffeehouses in Boston. The Declaration of Independence is a great piece of journalism.
Humanitou: What do you mean by that? Why is it journalism?
Rhonda: Because it's expressing the facts as these people saw it. I've actually never thought about this before. That just came out. It's expressing their needs, their desires, their feelings. Therefore, we have the right to say we want to be independent. It's communication that happens to be in print.
Humanitou: I notice your signed photographs in your office. I've seen them on exhibit in the First Amendment Gallery of the Manitou Art Center. Tell me about that part of you.
Rhonda: My parents were both pretty artistic. They never really pursued it all that much. My mom painted, and my dad was a third-generation woodworker. So, I always had a pencil in my hand. Just hours of drawing.
It just evolved. Eighteen years old and I said, "I'm going to go to college and I'm going to pursue art." I had an emphasis in drawing and painting, but I also took a photography class, ceramics, jewelry, printmaking, sculpture. I had really good teachers.
Then I got out in the real world and said, "This isn't real practical." I worked at a T-shirt shop. But art is another way to communicate. To me, art brings color and texture and joy to life.
I've just kind of evolved through media and found that photography works really well for me. As I've gotten busier and busier, I can go hiking with friends and socialize, and take photos and then go home and play with them.
Humanitou: Is that your primary form of what you'd consider your art now, aside from the creative aspects of your daily work at the paper?
Rhonda: Yeah.
I've talked to many artists, usually at their exhibits. I'm looking at their work and I say, "You know, 99 percent of people would walk right past this. You see the beauty in this. You slowed down, you observed, you took some time to photograph it or sketch it or whatever. Everybody else is just like, 'It's just a flower, it's just a tree.'"
And that's where the magic is. If you slow down and wait for something great to happen … Be quiet and be still, and don't be looking for that next thing around the curve in the trail.
Humanitou: What inspires you?
Rhonda: People. Places. Other artists' work. I hardly ever go to an art show without just almost shaking with excitement that I've got to go home and do this, try this technique, this medium.
Mountains inspires me. Ocean inspires me. People who are being creative, who are loving, who are working hard to make the world a better place. That inspires me.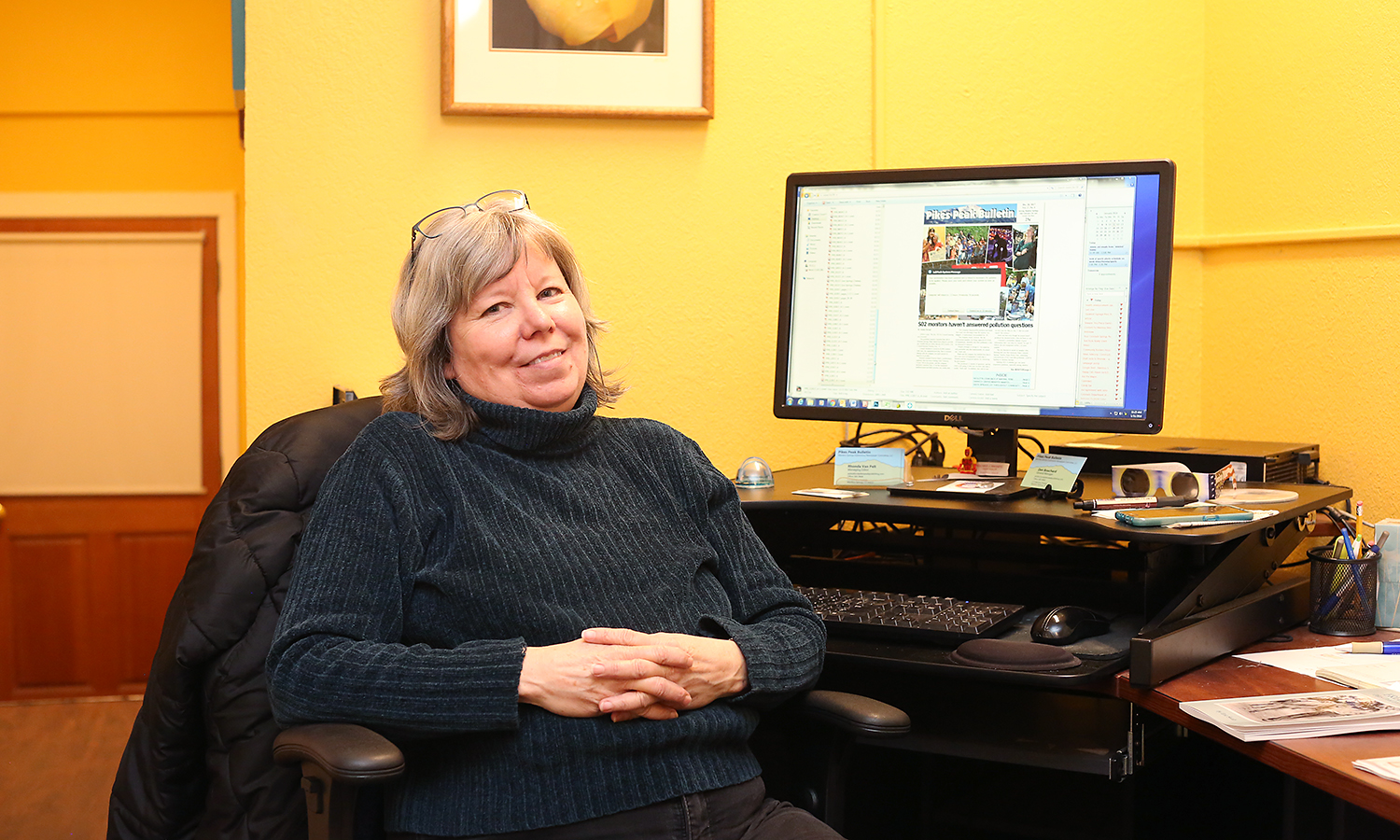 Humanitou: It seems like there always is some life answer we're trying to figure out as human beings. What do you feel you have figured out in your 59 years?
Rhonda: I hope that I'm better at having compassion and empathy for people, and letting people know that I appreciate them. You never know–
I've lost a lot of people I love over the years. We're all in this leaky old rowboat together, just trying to do our best. And we have to be good to each other, help each other.
Some of the greatest satisfaction I have is when I hear this person over here is looking for something and I know somebody who has that. I love that.
I try to be a good friend to others, but my first priority is to be a good friend to myself. That took a really, really long time to learn. I've been abused in my life, and it would not happen now. I now have the backbone and the strength to say, "This is wrong. Stop it."
Humanitou: Fill in the blank. One thing I am grateful for is ________.
Rhonda: I have somebody who writes to me every once in a while, and I want to meet her. But she emails me and says, "You put into words something I've been feeling. Thank you so much."
That makes me feel so good. I want people to be happy. I want to be happy.
---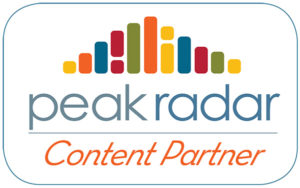 This Humanitou conversation is cross-posted at PeakRadar.com. | PeakRadar.com is the Pikes Peak region's cultural calendar and digital cultural center, connecting residents and tourists with our vibrant arts community. Your source for what's happening is PeakRadar.com!