Lu LaVallie and Luke Cissell are in their LuStyle Local Goods shop on an off day, tending to odds and ends. Their baby boy, Arrow, sleeps in his carrier seat nearby. The occasional local raps on the window and pokes his head in.
Their "little house of Ruxton" is Manitou Springs in one bite, with style and art tattooing its exterior and thriving in its interior. It's a spot where people stop in for local flavor and leave with energized faith in something.
Lu, 28, started this business with one product: giardiniera. She sold it primarily online and at farmers markets. The business has grown quickly, moving into its cozy brick-and-mortar at 112 Ruxton in July 2016.
While Luke, 33, cooks their breakfast of chia pudding and oats in a small frying pan, he and Lu share their story with Humanitou. We talk about what exactly is their signature giardiniera, and what it's not.
We touch on poetry and hip-hop, the spirituality of art and the meditative aspects of LuStyle. We also grab a serving of #ManitouLove, and learn how food led Lu to Manitou, Luke to Lu, and how it leads Manitou to them.
Humanitou: Luke, you came from Colorado Springs. Lu, what led you to Manitou from the Chicago area?
Lu: I always wanted to move to Colorado when I was a kid, because we vacationed here. I started to explore the state when I got older. I was roadtripping around the state with some friends. We wanted to see Pikes Peak, so we came to this area.
We were camping and asked somebody who was camping next to us where we could get some really good pizza. They directed us down to Manitou.
Luke: Knowing your love for pizza, it makes sense we got together. Pizza brought you to me.
Lu: Yeah. So, we came down to Manitou for food and then walked around. There was a random person painting faces on the street. I love getting my face painted, so we got our faces painted, and thought it was a funky place. I eventually moved out here five years after that.
I'd hopped around before. I was working on some organic farms in Vermont and Oregon. And I lived in California, briefly.
Humanitou: Lu, LuStyle started with you and giardiniera. What is giardiniera?
Lu: At farmers' markets it's been hilarious. People walk up, "What is this stuff?" The best way I can describe it is it's an Italian vegetable salsa. But I always do quotes on the word salsa, because there's no tomatoes in it. It's a ton of raw, organic vegetables in olive oil and apple cider vinegar, and we use some Italian spices.
It's kind of like you can use it like salsa and put it on crackers and chips, but it's really a condiment. You put it on eggs and sandwiches and pizza and salad.
Pizza is unreal with it. We usually like to keep it in its raw form, so we always recommend putting it on after it's done cooking. But a lot of people cook with it, too.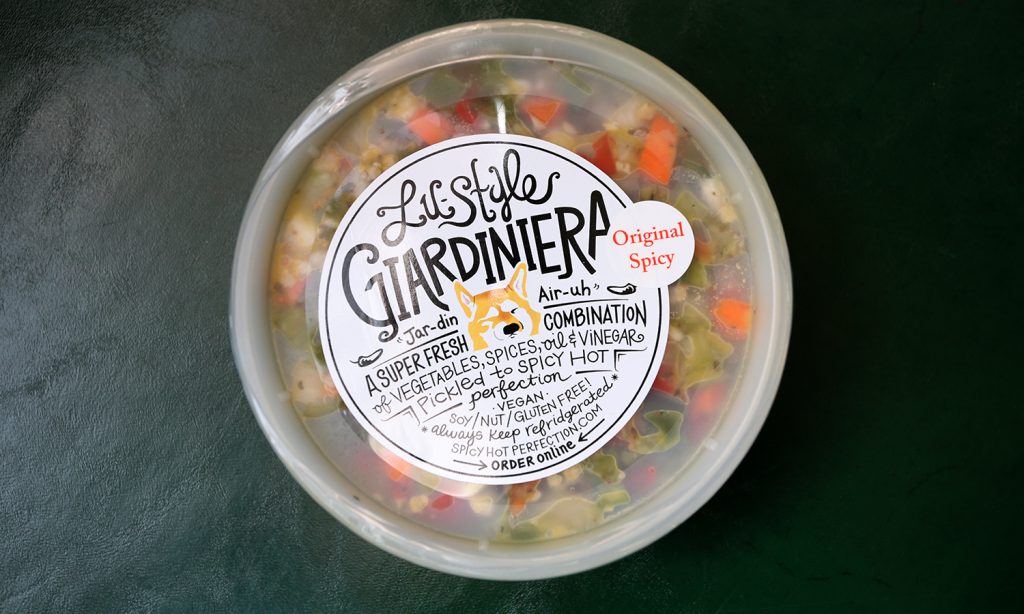 Humanitou: The giardiniera is where your web domain — spicyhotperfection.com — comes from. What do you use for the heat?
Lu: Jalapenos. Raw jalapenos. The extra-hot one has jalapenos and local cayenne peppers.
Humanitou: This is a Chicago thing, right? Not so much known around here, or at least until you started promoting it?
Lu: Yeah. Most people in Chicago, in the city, if you said "giardiniera," they'd know what I was talking about.
Luke: But they wouldn't think this.
Lu: Yeah, the traditional Chicago giardiniera is really oil. It sits in tons of oil, and usually soybean oil or even vegetable oil. And the vegetables are cut chunkier. It's cooked and sealed in jars.
So, I grew up eating that stuff and came across this recipe sometime when I was in high school. My sister was making it.
Over the years, we developed this fresher, raw, organic [version], and we use extra-virgin olive oil and apple cider vinegar. 
Nobody knows what giardiniera is outside the city of Chicago, really. And the health aspect of it, too. People here want that more conscious product.
Humanitou: Luke, you're a partner in LuStyle now, but you've got some other things going, too?
Luke: I teach poetry and hip-hop to kids in two youth detention centers in [Colorado Springs]. One facility where kids are awaiting trial, and another facility where they are committed to a sentence. It's all to, ideally, decrease recidivism.
I ran a poetry organization before that called Hear Here. We started it as open mics and we grew it into a nonprofit, and then I got this opportunity [to teach] and I passed the torch of Hear Here on to others.
I started working with kids right out of college, so I kind of got back to my roots, and I enjoy just being in the classroom now, teaching.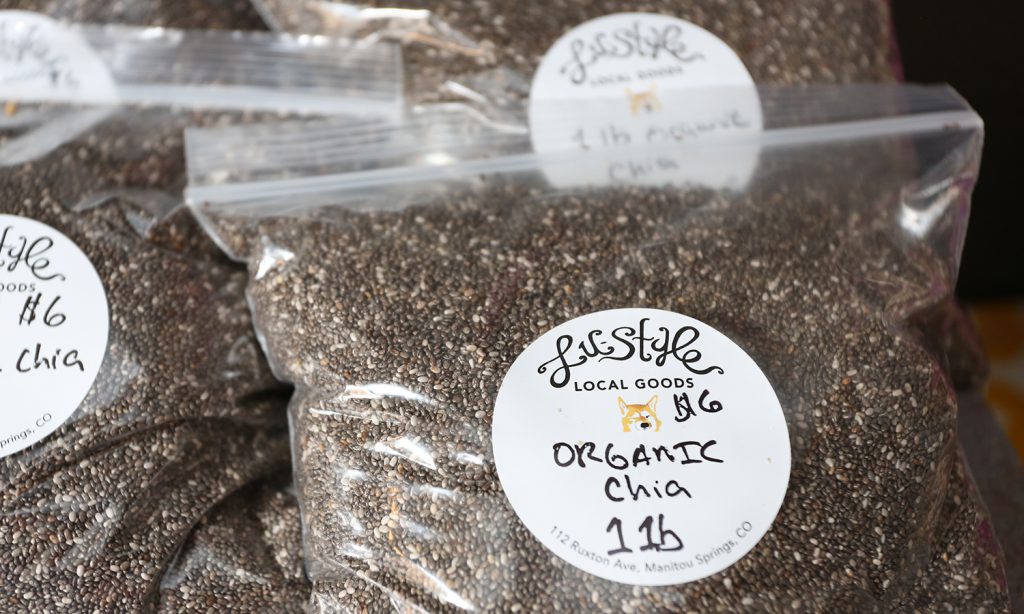 Humanitou: How did you two come together? You know, other than pizza-oriented magnetism?
Lu: Luke had helped found the co-op grocer that was here in town (where Anna's Apothecary is now), so he already had a background in local food. We both are local-food passionate and healthy-food passionate.
I handed him this product [giardiniera] to sell at the grocer. It was the first place to sell it.
Luke: (joking) I used to buy it to give me an excuse to chat with her.
Humanitou: Luke, LuStyle seems kind of like a version 2.0 of what you were part of with the co-op.
Luke: When we started the food co-op, the point was to draw locals together that would have more of an experience at the market, not like a drive-through.
You'd actually come into town, see some familiar faces at the grocer, sit down and chat for a while, get your produce, things like that.
We know our appeal is to make products ourselves, so people come here, specifically, for products they can't get elsewhere. We make our cashew cheese, our chia puddings, the giardiniera, our smoothies.
Since being here, we have grown, considering what we're offering. There's been three or four natural, local food grocers in Manitou over the years and none of them are here to this day. It's a difficult thing to have.
In order for businesses like this to thrive, every dollar matters. And we have locals who will come in simply to buy the stuff they know they can get elsewhere, but they know we carry.
A lady came in yesterday to get just eggs, bread and oats, even though she was going to go to Whole Foods, Natural Grocers, Mountain Mama's later. She came in here just to spend 20 bucks, knowing that it helps us.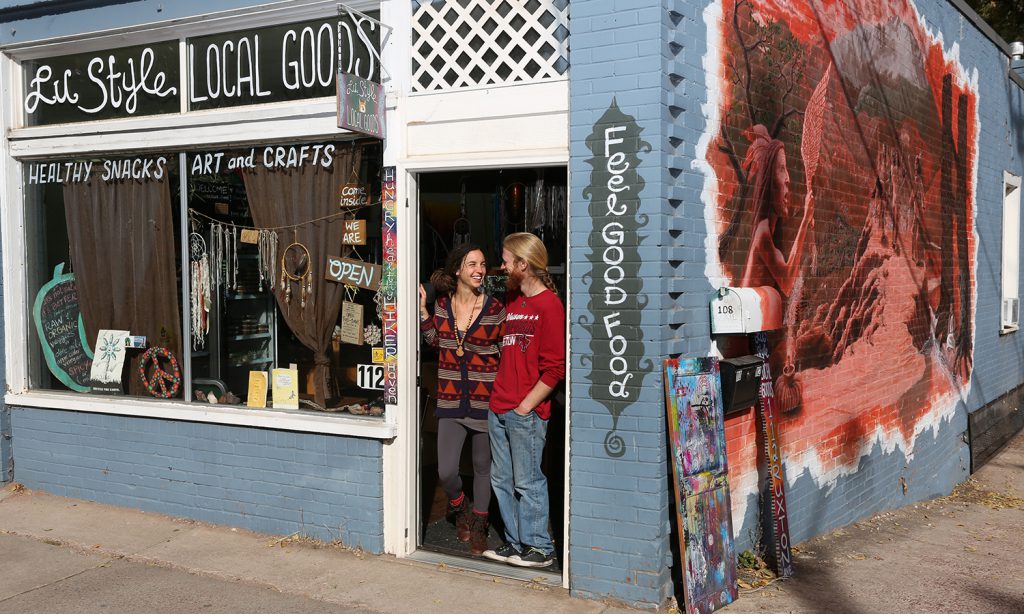 Humanitou: Creativity is a big part of what you two do, with poetry, painting, your food. Where does that come from?
Lu: I went to art school [Columbia College-Chicago] and majored in fine arts. By the end of that, I was kind of sick of doing the art thing. I didn't want to get all involved in the Chicago galleries. But I always had a passion for food and cooking, so my art sort of became culinary.
In the meantime, when I was trying to develop the [giardiniera] product, and the labeling and licensing and all that, I was working as a server at restaurants or as a barista at different cafes.
Giardiniera is one of those things where once people try it, they buy it. It's an awesome product and it's unique. There isn't really anything like it. So, that started to pick up really fast. I took that on full time within a year of moving here.
Luke: You should see at home, too, her notebooks. [The giardiniera labels are] all hand-drawn. And then she sends it to a friend to get the [digital files created].
Lu: I even painted my little dog label. That's my old dog. His name was Zeke. He became the logo for it back in the day. But that font is a hundred percent unique, which I always thought was cool, because it's all hand-drawn. I do it all old-school, I can't do it on computers.
Luke: Her scrapbook had, like, 20 pages of the exact same things until this is the one she sent. Her brother-in-law, who works in graphic design, has told her, "You could sell your fonts to people, because you do such great work."

Humanitou: Luke, it sounds like you're also creative in a variety of ways.
Luke: Whenever I teach classes, the first thing I go in and do is have them raise their hands if they think they're an artist. The younger the kid, the more hands get raised, which is really cool.
If I go into a college setting or a corporate setting, I'll get one or two out of 20 hands that get raised, if any.
What we then do is go into, "What is art?" And by the end of the class always, I'll get every hand to be raised, because they'll recognize what their art is, currently.
I usually have them understand when I was a kid, I believed that if I couldn't draw your face as I see it today, perfect to where I could put it up next to you and people would be like, "Oh, that's him," then I'm not an artist.
Then, as you grow older, you see some dude making six figures off drawing stick figures, you know, and you're, like, maybe art is more than I think it is.
So, over the years, I've learned from martial arts, culinary arts, from poetry to visual, that's all under the same umbrella. I constantly have been, in my own poetry, discovering what I feel art truly is.
Humanitou: That is a spirit you both have brought into LuStyle.
Luke: The most fun about this store, and us meeting and doing culinary together, has been that this allowed us to play. To me, play is where you truly discover the connection within everything, which is art in many ways, and that's what has been really neat.
We come in every day and, "What can we make today? Let's just try something new." No recipe book. We just start throwing something together.
Lu: We've got some staple stuff, like the cashew cheese, because it's so popular. We make that all the time now. Otherwise, things are kind of ever-changing, you can always get something different here.
Luke: It's been fun, as far as the creative journeys went, to have more freedom to express ourselves, in many ways. That's what ends up coming through in the food, which is our art.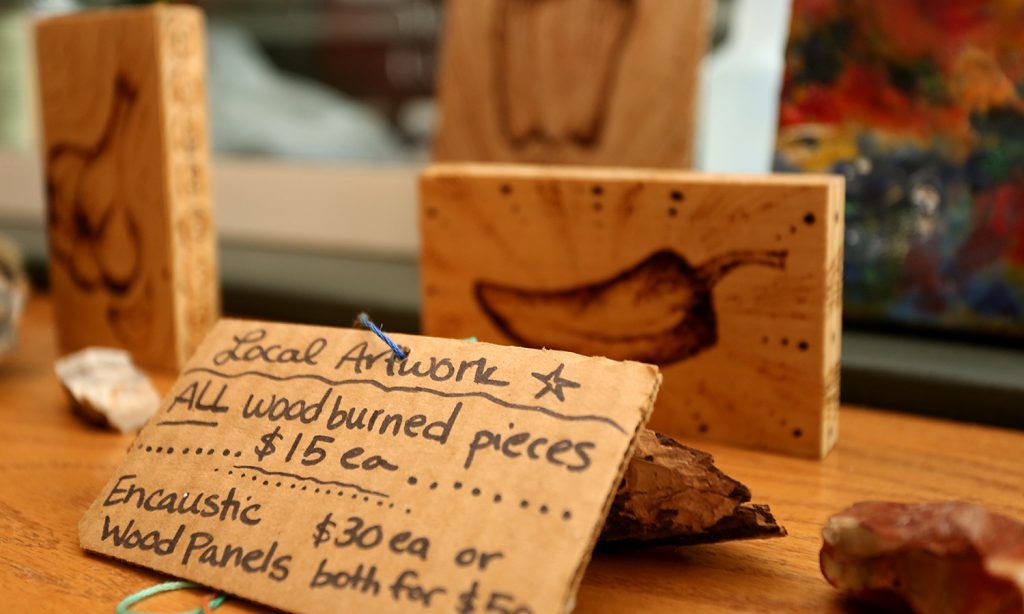 Humanitou: You ask your students what art is. So, what is art?
Luke: There's a quote that says poetry is religion because it shows you the connection in everything. I've held onto that, because I've thought any art for yourself becomes, in essence, I feel, like your religion, your spiritual practice, which turns you inward and has you focused.
In chopping [vegetables], that's your meditative Buddhist moment when you're just completely into this one little thing, this one task that's shutting down your mind and allowing you to be.
My second thing is art is God, and that we're all practicing it to kind of find God, in essence, no matter what your god is, no matter what you call God or believe.
You're just on a journey to find that, so in this practice daily we're just learning so much about ourselves. That's what it's all about, to continue on that path of self-awareness and mindfulness.
Humanitou: You've got a lot of Manitou love. What is it you love?
Lu: There's a strong personal connection. There's just such a strong community here. You can walk around town, and you know so many people who are doing really cool projects and want to get people involved in projects.
The arts are so strong here. We go to Skill Share at the Manitou Art Center on Wednesdays. You can build things and do projects.
Luke: We love this town so much that if we never had to leave daily to go do stuff, we wouldn't.
It's good to hop into the Springs. But you "head west to rest" was the line I had in my head forever. Like all of us do sometimes, you drive west of the peak to go clear your head and hangout in the forest.
I work in the Springs and it feels good to retreat back to the mountains and care for yourself. This becomes your sanctuary.
The quirkiness of people, too. You just don't meet that elsewhere. It's a T.V. show daily here at the shop. As much as it drives you nuts to be inside all day at times doing stuff, the personalities that come in here, I go home with stories for her for hours.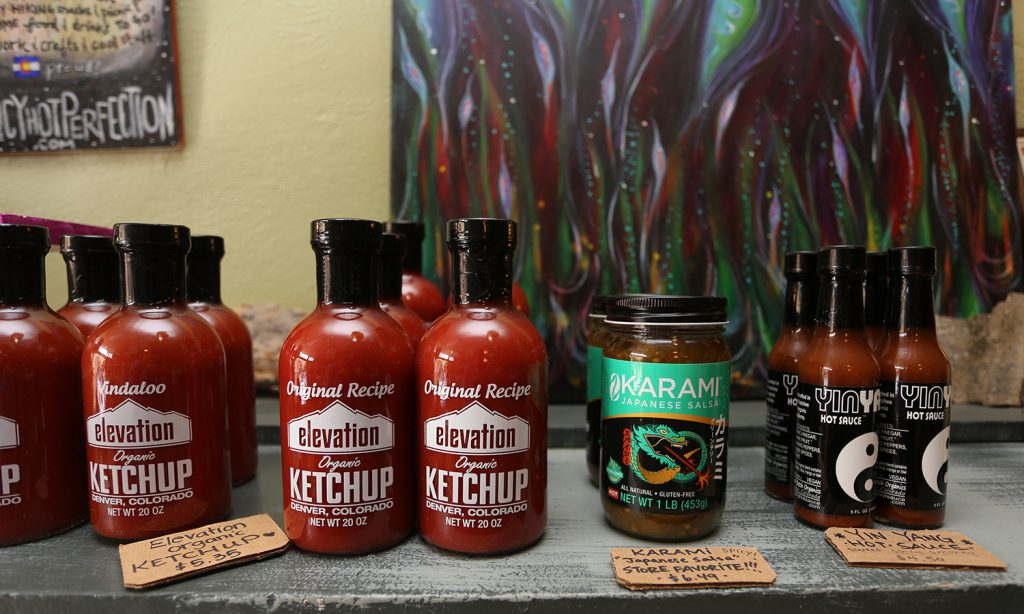 Humanitou: You're building a special community spot here, something of health and love.
Luke: One of the reasons we do this now is it's become an extension of our home. It's been a cool open-door home for us to have, where we can treat people like they're family here, and they feel that, even for that five minutes.
Ideally, in what I've seen, is that sends them out with a smile and they're, hopefully, going to spread that throughout the rest of the day.
Because we love on people and treat them so much like family when they come in here, if they're open to it, if they engage us, if they make eye contact with us, that's when we adopt them.
Lu: You can come in and see what we have on the shelf. But we've got things in the back. Someone will come in and be like, "You guys have olive oil, coconut oil or something?"
"Yeah, we don't sell it, but what do you need?"
We're always pulling stuff from our own kitchen space to provide.
Luke: That's weekly, for sure. Toilet paper started like that.
Lu: It's like, "if you need a cup of sugar," kind of thing.
Luke: We had people yesterday who were going to come quick in-and-out, and they ended up sitting down. They were from San Diego, traveling. They said, "Thanks for the hospitality."
I don't think I ever understood that word as well as I did yesterday when they said it. It hit me, "OK, that's what we do. You come in and whatever your needs are in this moment, to be fed something — good conversation, food, water — we've got you covered."
It's like a little oasis.
Taste Giardiniera
Giardiniera is growing in popularity throughout Manitou Springs. Ask about it at Red Dog Cafe, Create Cafe, and SunWater Spa besides, of course, at LuStyle, the "little house on Ruxton."