Spiraling down the iron stairs Kyle Frerichs installed in the center of his house, we enter a tightly organized workshop. It goes far beyond the common — peg boards holding the hand tools and a workbench with a vise mounted at the corner — to another height of possibilities.
There are industrial relics of the mid 20th century weighing as much as a ton each standing side by side, with metal shavings scattered among them, hinting at the craftsmanship they are part of.
Kyle, 33, not only pulled these machines out of the corners of Craigslist and gave them new life. He's managed to connect one of them, so far, to the contemporary age of auto-producing work following his web-based designs.
Standing amid the machines Kyle uses for various house, creative and side-hustle projects, we reach past his stoic and humble demeanor to talk about his amazing jack-of-all-trades skills.
We get into what motivates him and how he views his creative process. We dip into what he sees for the future of transportation and the possibility of fate.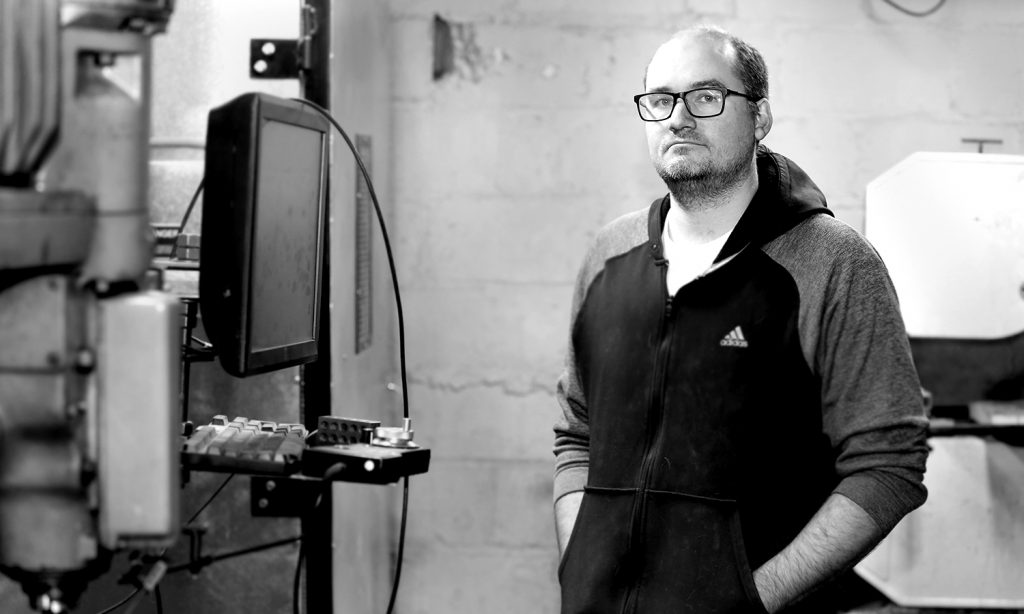 Humanitou: You work as an engineer of sorts? It seems you bring a lot of that know-how to your home projects. I've never seen a home workshop like this.
Kyle: A mechanical engineer. That's kind of how I got into all this. I started out as a mechanical engineer, sitting behind a computer, drawing stuff. And then we have a machine shop where they'd go build the stuff that you're designing.
We had a machinist take off and start their own business, so I started doing all the machining. Now, I'm more of a machinist than a mechanical engineer, but I still do design work.
Humanitou: What draws you to either aspect? Do you have a preference?
Kyle: To me it's all of the above, even fabrication. I do a lot of welding, too. Most people are machinists, their designers or their welders, or woodworkers.
I don't claim to be the best at any of those things, but I dabble in all of them and when you can put it all together, that's some pretty cool stuff. And, really, with furniture, that's where you see all that stuff come together.
That's what's kind of cool about the Manitou Art Center, showing how you can go from a computer and design, and you can go build it (in the shop there). That place is awesome for me, just to have some more work space.
Humanitou: You have started teaching design at the MAC, right?
Kyle: Well, it's more of a hangout. Tuesdays and Thursdays, if anybody wants to come and talk about a project their interested in.
Humanitou: You have some pretty serious machinery in your workshop.
Kyle: It is. And it isn't. If you went to a machine shop, there are machines as big as this garage, and they cost a $150,000.
Humanitou: Sure. But on a home level, I'd say you've really dived in.
Kyle: Absolutely, in comparison. Immediately, when I started machining, I was just into it. I could see the avenues where it would go, too, all the different things you can do with it.

Humanitou: What got into you about that, what hit that note for you?
Kyle: I'd have to say that's probably what I got into engineering for, because I thought that engineering was hands-on building stuff. The reality is I don't. In most cases, it's more of a desk job. The further you get into it, too.
But I don't know what it is, exactly. I've just always been into this.
Humanitou: Do you consider the personal work you do, like furniture and electric bike building, to be more about precision-based production or do you see yourself in it?
Kyle: You're exactly right on the engineering side. I'm more of a plan-it-out type of guy. For instance, I've been interested in building my own mountain bikes since the beginning of high school. I won't do it until I feel like I have the skills to do it. Finally, I'm there with all this stuff.
But there's guys out there that say, "I want to build a bike and I'll use wooden tooling and stuff." I'd actually like to see myself go more that way and just try something versus it's all got to be worked out in my head before I do it.
A lot of the furniture I've done, that's become the case, especially when people want a custom job. You have to just figure it out.
Humanitou: So there are elements where you see yourself as creative?
Kyle: Yeah. I mean, it's the whole engineering thing. But all the stuff going on in this house is me just waiting for the image to pop into my head.
I would consider this house project being like a renovation. If you had a lot of money, you'd approach it, like, "I'm going to bring in all these people and make all these decisions in a couple months."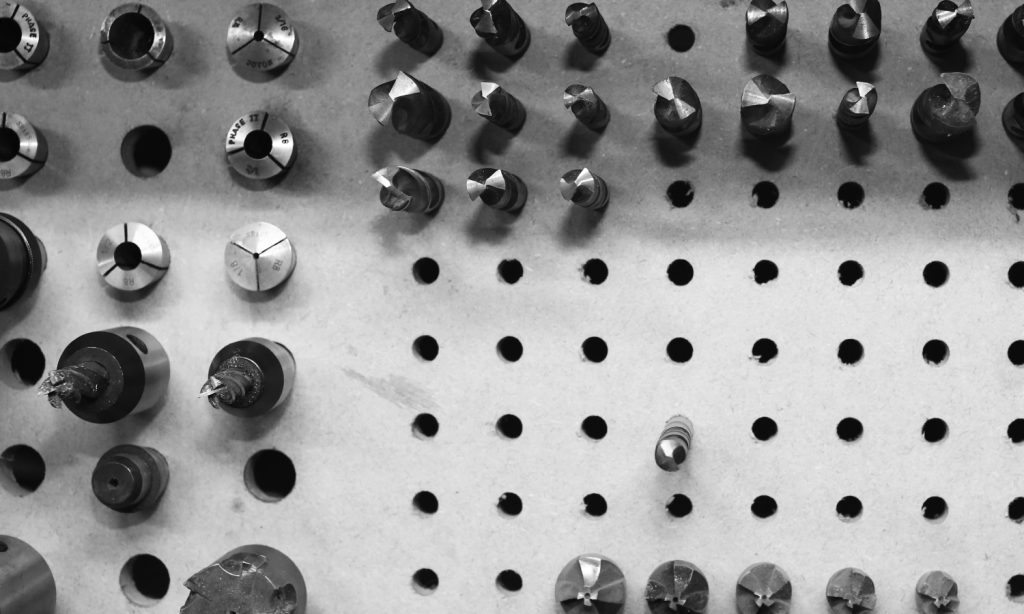 I like to let it linger and wait for it to come to me. It's a money thing, and I just want things to be the way I want it to be. I'm constantly going back through projects and thinking that's not up to my standard of what I can do now.
Like my kitchen cabinets, that was my first project. Now, I look at them like, I wish I could have a metal-and-wood element to that. I did them all in wood, like traditional cabinets. Like the furniture I do, I do all metal frames and wood inlays.
Humanitou: You seem to be a rather low-key and patient person. What do you think drives you, has been influential in who you are and this approach?
Kyle: That's a tough question. People are shaped by growing up, and my dad is into woodworking. However, my dad never thought he could do it as a career, it was just a hobby sort of thing.
What shaped me? It's every little instance, right? To me, my dad didn't do what he wanted to do. He worked that 9-5 job (as a pharmacist), and I don't want to be stuck in that rut. I think Manitou is a great place with a lot of people not taking the traditional path.
Humanitou: I think we're seeing a difference in generational perspectives and opportunities, too, right?
Kyle: There's alternative ways to go about it now. With social media, that's really opened up a lot of things. Twenty-five years ago when my dad might have wanted to do this, how would you market furniture?
I went on Etsy and it was amazing, all kinds of people wanting your stuff. I was getting emails from, like, the U.K. That type of exposure, nowadays you can get that. It's sort of amazing.
Humanitou: It sounds like you like being in Manitou. What drew you to here initially?
Kyle: I've been here six or seven years. I kept to myself and wasn't involved in the community or anything. Just going down to the art center, starting about five months ago or so, now I'm starting to meet people, and it's cool. I'm getting involved more.
The thing that brought me here is I wanted a project house. This was the only Manitou house that was in my range of budget. I saw a project and that was exciting to me.
I'm pretty simple as far as the things that I want and, honestly, this is the foundation of what I want. 
I've gone from very motivated when I moved in to I've kind of lost it. You get kind of beat down after working all day. But now I'm coming around to my second wind. I have a nice shop now. It started out as a woodshop and now I'm turning it into what's more relevant to what I do now.
Humanitou: In some of what I've been hearing, the word evolution comes to mind. How do you look at the evolution of yourself as a craftsman?
Kyle: What I've found is I like to focus on what I can do, and grow those skills. I think a lot of times, you're forced to look at something somebody's building and how they're doing it, like the bicycle.
There's a lot of things you're not going to be able to do in your home shop, like hydroforming tubes like they do in commercial shops. Well, finally, I'm learning who really cares what they're doing in commercial?
If you're selling a custom bike to somebody, they're wanting your perspective on that. There's things you can do that, commercially, they won't want to do. With custom, you have the ability to shape something to what somebody wants.
Humanitou: Would you consider yourself an introspective person?
Kyle: I certainly just follow what happens in life. I've been thinking about can I go on my own and just do my own thing?
Yesterday, I got an email from somebody about something I built a year and a half ago. I was expecting, "Oh no, something's broke or something." They were, like, "Hey, I'm just contacting you because this thing's still working perfect and …"
I'm not a religious guy, but I think something is pushing you towards something. I'll call it fate. Why did somebody just email me that when I'm thinking of whether I should do my own thing?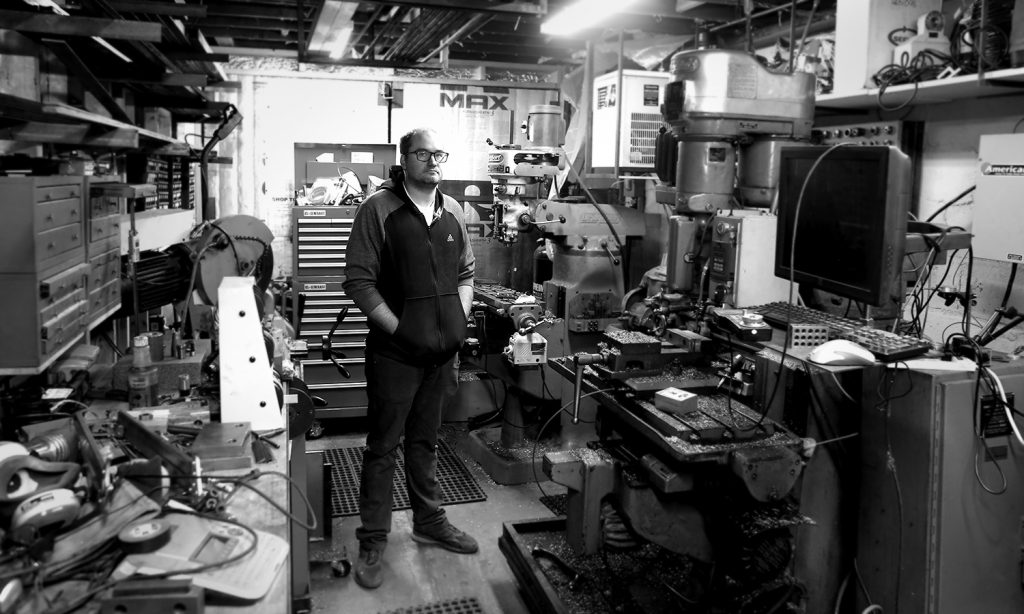 Those types of things do push me. I just feel like that happened for a reason, so it's putting me more in, like, "Why don't I just do my own thing?" I really do not like the corporate lifestyle.
…
I want to go back to one thing, if I can.
Humanitou: Sure.
Kyle: Another reason I'm in Manitou is because of the mountain biking and the hiking. This house is insanely located for that. I go out the backyard and there's trails.
And a couple years after I moved here, I saw them digging the Iron Mountain trail. That's another fate thing. I'm like, "They're building me a trail to get over to Red Rock Canyon!"
And once I got into electric bikes, now I can just get anywhere on trails. It's just crazy.
Humanitou: What is it about mountain biking that grabs you?
Kyle: It's not just mountain biking. With my dog, I'll go for 10-mile hikes. But mountain biking, it's like hiking on speed. It's so fun, the technical side of it.
In college, I rode in bike trials, working your bike through obstacle fields. Now that I'm older — I dislocated my shoulder and broke my teeth doing that — I'm kind of, like, let's just travel some ground, rather than do the really intense stuff.
But it all ties together. Engineering … What's the future look like? Everybody is going to be in an electric car. The electric bike is right there, too.
That's just another thing, there's some force pushing you towards something. What it is, I don't really know, but I was into bikes. That kind of started dropping off, but now the electric bike is coming. They have technology you can go 25 miles, no problem.
Humanitou: If we leap ahead to a much older age and look back over your years, is there anything you'd like to have done, to have become known for?
Kyle: Yeah, it would be interesting to do some projects for people in the Manitou community.
So far I've gone through the furniture and it's been online, and I've sold some to other people. It would be kind of cool to be known as a person that could create a custom project for people within the community.
Humanitou: That's definitely doable here. Do you have a vision for where you want to go, in the meantime, or is the idea of starting your own business as far as you feel you can reach right now?
Kyle: Well, I think that's a pretty far reach, really.
I want to choose what I do, which is the nice thing about finding your own way in life and making money. If the corporate job goes away, and I've said this to plenty of people, I'm going to just start this up hardcore.
I'm not going to be like I've got to go get another job, which I might have to move to Denver for or commute to Denver, which I would never do.
I'm pretty simple as far as the things that I want and, honestly, this is the foundation of what I want. Go ride my bike, take my dogs for hikes, come back and do my work. That's it, really.
---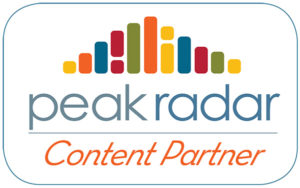 This Humanitou conversation is cross-posted at PeakRadar.com. | PeakRadar.com is the Pikes Peak region's cultural calendar and digital cultural center, connecting residents and tourists with our vibrant arts community. Your source for what's happening is PeakRadar.com!