Humanitou ArtPOP Experience
You have a story. It's worth sharing. Want someone to listen to it? Want to share it with the community? Humanitou is ready, friendly and open for no-judgment listening.
Humanitou is hosting a series of short conversations as a pop-up story-collection experience at the Manitou Art Center. The event is part of ArtPOP 2019. 
What is ArtPOP? ArtPOP is a series of 20 local artist-driven pop-up performances and exhibitions taking place throughout the Pikes Peak region during October. It's a collaborative event sponsored by the Pikes Peak Arts Council and the Cultural Office of the Pikes Peak Region.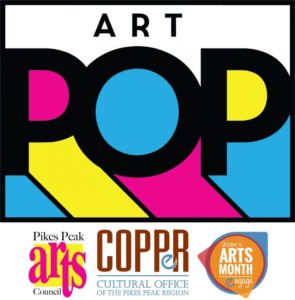 What is the Humanitou ArtPOP Experience? The Humanitou pop-up experience offers individuals an opportunity to share a story through Humanitou during a 20-minute conversation. Each conversation will be followed by making simple photographic portraits on the spot.
An edited version of the conversation and photographs will be published by Humanitou, and will become part of the ongoing Humanitou story-collection project shared online, via social media and beyond. 
There already are more than 60 conversations (and counting) that you can read to know what others are sharing through Humanitou.
Who? You. Everyone has a story. Individuals from any and all backgrounds are encouraged to apply.
When and Where? The Humanitou pop-up experience will be 11 a.m. to 3 p.m. on Sunday, October 20, at the Manitou Art Center (515 Manitou Ave.).
What Will We Talk About? You. Something that matters to you, something of your story. Humanitou conversations are about humanness and creativity. They are vulnerable and authentic.
Topics others have talked about include: love, resilience, joy, addiction, childhood, parenting, death, fear, inspiration, masculinity, culture, politics, money, health, suicide, spirituality, guilt, dreams … Everything human.
Humanitou is about connection through our stories. You definitely have stories to share. The first question you need to answer for yourself is: Am I willing to be vulnerable?
How to Participate? Apply online (below) by October 4 to be considered for one of eight 30-minute time slots. Your answers to these questions are helpful for assembling a diverse mix of stories.

What Happens After Applying Online? Selected individuals will be notified via email by October 11 to schedule individual time slots between 11 a.m. and 3 p.m. on October 20.
The selection process is necessary for bringing together a diversity of stories. The goal is to connect the community by including many perspectives (e.g. age, culture, socioeconomics, politics, identity). Selection is not a determination of the worth of stories or those sharing them. Others who apply will be considered for future Humanitou experiences.
Final Note: Given the limited number of opportunities to participate in the Humanitou ArtPOP experience, we ask that individuals ensure they can commit to a scheduled time. We anticipate having a full schedule of conversations and look forward to that enhancing this ArtPOP experience overall.