Emerging From Hiatus, New Artwork //
I've been making new work after nearly a year of creative hiatus from the Humanitou podcast, art making, blogging, poetry and the Humanitou newsletter.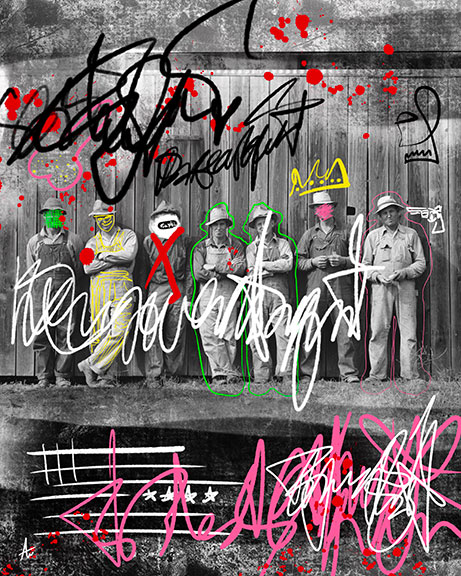 With this new visual artwork, I'm speaking more to current events, to what exhaustingly feels like years of brinkmanship with individual and collective insanity. I'm letting out frustrations and anger, hurt and bafflement. I am addressing responsibilities I think we all share in where we are as a society, as humanity. I also am asking questions.
These abstract works combine the use of photographic images, history and writing. In that way, it allows me to come out of hiatus and smash together multiple creative forms and areas of interest to me into a series of energetic, sometimes furiously so, emotional releases.
To viewers, you won't be able to decipher what I've scrawled in these pieces (except in one instance). The illegible words hidden in plain sight are for me, primarily. I suggest you allow yourself a breath and simply feel these visuals, feel the energy and textures, chaos and flows. And notice what you notice. 
I don't have many answers to all that feels off-kilter around us, but I do believe the way out is through greater awareness of what needs to be healed within us, individually and then collectively.
Click on the images below to see larger versions. Go to Instagram to see more.
---
Extra notes: Not all the works above, which are a small selection of the dozens of works I've made in the past several weeks, have a photograph underlying them. So don't strain your eyes searching for them.
For those works that do, the photographs I've used come from the Library of Congress and are in the public domain (loc.gov). I also incorporate the images in my artworks under the Fair Use section of the U.S. Copyright Act.
I mention these details for those who, like me, are ever curious to know how these things work. I appreciate having access to these materials as fuel for exploring creativity.
In my romantic and sentimental way, I imagine the people in the images being photographed nearly a century ago, unaware of the technological inventions and world changes to come. And ultimately, that someone like me would come into digital possession of the photographs and make use of them in posthumously collaborative artworks. I wonder what they would think.