About Humanitou
Humanitou (hew-man-uh-too) launched in June 2017 as a website that shines light on humanness and creativity through one-on-one conversations with artists, spiritual practitioners, civic leaders and other all-around amazing humans. Humanitou founder and creator, Adam Williams, and guests explore the full range of the human experience.
In an initial run of nearly three years, Adam published more than 75 interviews as readable Q&As on the Humanitou website. Then came the next step in Humanitou's evolution: the podcast.
Conversations in both formats are accessible through this website. Podcast episodes also are playable through the major podcast players (e.g. Apple, Spotify, Google).
Support Humanitou: If you'd like to fuel the Humanitou Podcast in its mission of empowering good through conversations of humanness and creativity, you can "give a buck" to keep the good growing. Social media (@humanitou) and old-fashioned word-of-mouth shares also are appreciated. Thank you. 
---
About Adam
Adam is married to Becca, and they have two sons; they live together in the mountains. He is a veteran of the U.S. Army, has traveled widely but forgotten much of what happened while doing so.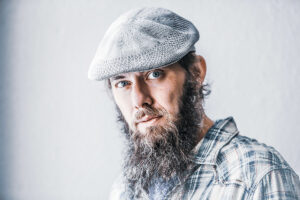 Sometimes he goes fly fishing; he snips the hooks off the flies so not to harm the fish. He took up snowboarding at 40 and, other than getting nervous every time he exits the chairlift, feels pretty badass* with his board. [*Badass is relative.]
He is a spiritual practitioner and teacher of yoga, writes poetry and publishes some of it under the Humanitou imprint. He has published his writing and photography in several dozen (or more) publications, and exhibits and sells his photography.
Adam started interviewing people professionally as a journalist starting nearly 20 years ago, though seemed to have an early curiosity for it many years sooner, when he tape recorded interviews with his parents and grandmothers. 
You can read about and listen to more about Adam in the occasional media spot. Not to mention Part One and Part Two of "A Conversation with Adam Williams, Creator of Humanitou."
Photo credit: Becca Williams
---
Media, Speaking & Sponsorships
See the online media kit.
Adam has a win-win perspective: "Let's take care of each other so we all rise."
For sponsors and collaborators: Adam is holistically creative and enjoys collaborating to spin up ideas and to solve problems. With a career in journalism and content marketing leadership, he is a rare partner, one who can help to bring ideas from concept to creation, and all the way through strategic execution. He gets it. His aim is to make you look good, and to cultivate authentic relationships.
You can connect with Adam via email to kickoff conversations for media, public speaking and sponsorship possibilities: adam @ humanitou.com.